August 27, 2018
Obinutuzumab in Follicular Lymphoma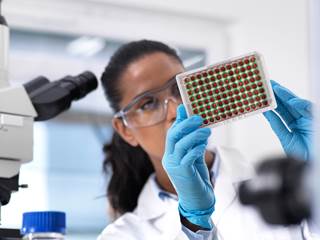 Many patients with follicular lymphoma will be asymptomatic and present with variable cervical, axillary, and inguinal adenopathy.
Follicular lymphoma (FL) is a hematological malignancy, derived from B cells, that represents close to one-third of all the non-Hodgkin lymphoma (NHL) cases in the United States.1 Many patients with FL will be asymptomatic and present with variable cervical, axillary, and inguinal adenopathy.2 Traditional "B symptoms" including weight loss, fever, and night sweats are absent in approximately 80% of patients at the time of diagnosis.3 The underlying pathophysiology explaining FL is not entirely known, although more than 80% of patients have the chromosome translocation t(14;18) and the resulting excess production of the BCL2gene. Overexpression of the protein Bcl-2 inhibits apoptosis, leading to a reduction in cell death.4
Although the Bcl-2 pathway has been well described in FL, there are other targets within the disease that some treatment regimens have tried to address, including the CD20 receptor located on B cells. One such treatment for patients with stage III/IV FL is obinutuzumab. Obinutuzumab is an anti-CD20 monoclonal antibody, and in the same family as rituximab. Compared with rituximab, obinutuzumab has greater antibody-dependent cellular cytotoxicity and direct-B cell killing effects, although it also has lower complement-dependent cytotoxicity than rituximab.5
Obinutuzumab is approved by the US Food and Drug Administration for use in combination with bendamustine in patients with FL who have relapsed after treatment with rituximab or are refractory to a regimen that includes rituximab.6 In addition, obinutuzumab is approved as part of a combination regimen in patients with previously untreated stage II bulky, stage III, and stage IV FL.6 Obinutuzumab has also been approved for patients with chronic lymphocytic leukemia (CLL).
The GALLIUM trial was the landmark trial for the medication's use in previously untreated patients with FL. This study compared rituximab with an obinutuzumab-based regimen in patients with previously untreated FL.5,7 The chemotherapy regimen added to either rituximab or obinutuzumab varied based on the clinical site and included bendamustine, cyclophosphamide/vincristine/prednisone (CVP) or cyclophosphamide/doxorubicin/vincristine/prednisone (CHOP). The primary end point was progression-free survival (PFS) with many secondary end points, including overall response rate, disease-free survival, event-free survival, overall survival, time to next lymphoma treatment, and safety data, among others.
The GALLIUM study included 1202 patients for the intention-to-treat analysis. Based on a median follow-up of 34.5 months, the obinutuzumab-based regimen showed a significantly higher 3-year PFS (80%) compared with the rituximab-based regimen (73%, HR 0.66, 95% CI 0.51-0.85, P= 0.0012). This translates into a 34% lower risk of progression, relapse, or death. Complete response (62% vs 57%, P= 0.32), complete or partial response (86% vs 81%, P= 0.17), and overall survival rates at 3 years (7% vs 9%, P= 0.32) were similar for the obinutuzumab regimen and rituximab regimen, respectively.6