June 27, 2014
Oral Arsenic-based Regimen for Relapsed/Refractory Mantle Cell Lymphoma
the Cancer Therapy Advisor take:
Typically, patients with mantle cell lymphoma (MCL), especially those with relapsed or refractory disease, experience poor outcomes. An oral arsenic-based regimen, however, may prove beneficial in this patient population, according to a study published in Annals of Oncology.
In the study, researchers administered a continuous oral regimen comprised of oral arsenic trioxide (oral-As203), chlorambucil and ascorbic acid to 39 patients, 34 of whom were men and five of whom were women, aged 41 to 82 years of age with relapsed/refractory MCL. Patients were ineligible for high-dose chemotherapy and had previously received one to five prior regimens.
Data indicated an overall response rate of 49%, with 28% experiencing complete response and 21% experiencing partial response. Eleven patients, including eight complete responders and three partial responders, maintained response after a median of 24 months. The researchers noted increased lactate dehydrogenase and an unfavorable MCL international prognostic index were independent prognostic factors for response.
After a median follow-up of 21 months, progression-free survival (PFS) was 16 months and overall survival (OS) was 38 months, according to the researchers. Female gender and an Eastern Cooperative Oncology Group performance score of 2 were deemed independent prognostic factors for PFS, while female gender, an ECOG performance score of 2, non-response, and disease progression after initial response were independently linked to OS.
The researchers found only grade 1 or 2 toxicities, 56% of which were hematologic and 8% of which were hepatic, leading them to conclude that this regimen may be appropriate for some patients with MCL.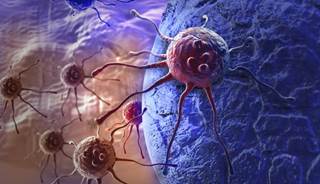 Oral Arsenic-based Regimen for Relapsed/Refractory Mantle Cell Lymphoma
Mantle cell lymphoma (MCL) is aggressive, and relapsed/refractory disease has poor outcomes, but a novel approach involving an oral arsenic-based regimen may help improve treatment.
To evaluate the potential of this regimen, researchers conducted a study involving 39 patients with relapsed/refractory MCL, ineligible for high-dose chemotherapy and had received two prior regimens, were treated with a continuous oral regimen, comprising oral arsenic trioxide, chlorambucil and ascorbic acid.
Related Resources
Sign Up for Free e-newsletters
Regimen and Drug Listings
GET FULL LISTINGS OF TREATMENT Regimens and Drug INFORMATION