July 21, 2014
Patients With Hodgkin Lymphoma May Develop Third Malignancy
the Cancer Therapy Advisor take:
Hodgkin lymphoma (HL) has become a highly curable malignancy with an 85% survival rate for patients 5 years after diagnosis. On the other hand, survivors of HL have a high risk of developing a second malignancy. According to a study published in Blood, survivors of HL who have developed a second malignancy are at a higher risk of developing a third malignancy.
Anna van Eggermond and researchers analyzed over 3,000 patients whose HL diagnoses came by 1965, survived at least 5 years, and were followed until 2012. Although this was a long time frame, it is important to note that second malignancies occur in approximately 19 years while third malignancies come in another 4 years.
Results indicated that as time passed, risk of developing an additional malignancy increased. Researchers found that radiotherapy is the biggest contributor to second and third malignancies. Researchers found that radiation doses were strongly associated with second malignancies, most notably breast, lung, and gastrointestinal tract cancers.
Ninety percent of the patients received radiotherapy, which was used before 1990's introduction of involved field radiation. Chemotherapy was found to be another contributor to developing additional malignancies, and 40% of HL survivors received chemotherapy in a MOPP (mechlorathamine, vincristine, procarbazine, prednisone) or MOPP-related regimen.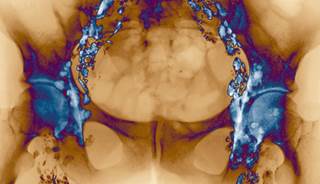 Patients With Hodgkin Lymphoma May Develop Third Malignancy
With major advances in treatment over the last several decades,
Hodgkin lymphoma (HL)
has become one of the most curable malignancies, with a 5-year relative survival following HL diagnosis now exceeding 85%. However, HL survivors also have some of the highest risks for developing second cancers, which are a major cause of morbidity and mortality.
Related Resources
Sign Up for Free e-newsletters
Regimen and Drug Listings
GET FULL LISTINGS OF TREATMENT Regimens and Drug INFORMATION