June 06, 2014
Post-Chemo PET Scan Results Indicative of Outcomes in Hodgkin Lymphoma
the Cancer Therapy Advisor take:
Post-chemotherapy positron emission tomography (PET) can help guide radiotherapy in Hodgkin lymphoma, according authors of a recent study published in the Journal of Clinical Oncology. The researchers analyzed 739 patients with advanced Hodgkin lymphoma with residues of at least 2.5 cm after chemotherapy. Of all patients included in the analysis, 74% had PET-negative residues and did not receive additional radiotherapy. Four-year progression-free survival (PFS) was 91.5%. In contrast, 4-year PFS was 86.1% for the 26% of PET-positive patients who received additional radiotherapy. Data from an analysis of a subset of PET-positive patients with a relative reduction of less than 40%, risk for progression or relapse within the first year was 23.1% versus those who experienced larger reductions. These results prompted the researchers to conclude that patients with PET-positive disease after chemotherapy and poor tumor shrinkage are more likely to experience progression or relapse.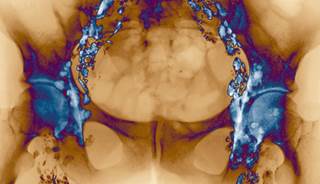 Post-Chemo PET Scan Results Indicative of Outcomes in Hodgkin Lymphoma
Patients with Hodgkin lymphoma who have PET-positive residual disease after chemotherapy and poor tumor shrinkage are at high risk of progression or relapse.
Related Resources
Sign Up for Free e-newsletters
Regimen and Drug Listings
GET FULL LISTINGS OF TREATMENT Regimens and Drug INFORMATION