August 01, 2014
Potential New Treatment Options for Drug-Resistant Mantle Cell Lymphoma
the Cancer Therapy Advisor take:
Researchers conducted a genomic analyses of healthy tissues and tumors from patients with mantle cell lymphomas who did not respond to treatment with ibrutinib or initially responded but eventually experienced disease progression while receiving ibrutinib treatment.
According to a study recently published in Cancer Discovery, the journal of the American Associated for Cancer Research, the genomic analyses identified explanations for both forms of drug resistance and provided insight on how to effectively treat these patients in the clinic.
The percentage of patients with mantle cell lymphoma who do not respond to ibrutinib treatment is about 32%, otherwise the drug shows an "unprecedented clinical activity against mantle cell lymphoma," said Selina Chen-Kiang, PhD, lead researcher. Dr. Chen-Kiang also noted that researchers are finding that patients whose lymphomas respond to ibrutinib treatment ultimately relapse on account of their tumors acquiring resistance to the drug.
By conducting a longitudinal study of mantle cell lymphomas with primary and acquired resistance to ibrutinib, researchers were able to identify a mutation in the target of ibrutinib, BTK, that they associate with resistance to the drug.
From there, researchers were able to develop rational drug combinations that could aid future patients with the same drug resistance.
In addition to mantle cell lymphoma, this study could also benefit treatment of other B cell lymphomas like CLL and certain non-Hodgkin lymphomas.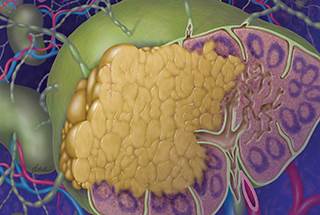 Genomic analyses provided explanations for these two types of drug resistance.
Genomic analyses of tumor and healthy tissue from patients with
mantle cell lymphomas
that fail to respond to treatment with the anticancer drug ibrutinib (Imbruvica) or initially respond but then stop responding and progress, provided explanations for these two types of drug resistance and suggested ways to overcome them in the clinic, according to data published in Cancer Discovery, a journal of the American Association for Cancer Research.
Related Resources
Sign Up for Free e-newsletters
Regimen and Drug Listings
GET FULL LISTINGS OF TREATMENT Regimens and Drug INFORMATION