June 12, 2014
Subcutaneous vs. IV Administration of Rituximab in Follicular Lymphoma
the Cancer Therapy Advisor take:
In a new study published in the Journal of Clinical Oncology, researchers were able to determine a rituximab dose that, when administered subcutaneously, would induce the same rituxmimab serum trough concentration (Ctrough) as when the treatment is administered intravenously (IV). Specifically, they found that a fixed dose of 1,400 mg yielded Ctrough levels that were noninferior to those observed with a 375-mg/m2 IV dose. This was confirmed for 2- and 3-month regimens, according to study results. Safety profiles were similar, with 79% of patients experiencing at least one adverse event in each group. Mild to moderate administration-related were more common after subcutaneous administration. While encouraging, the researchers noted that further study is needed to ensure that efficacy of subcutaneous rituximab is also noninferior to IV rituximab.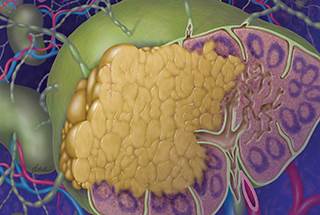 Subcutaneous vs. IV Administration of Rituximab in Follicular Lymphoma
The fixed dose of 1,400 mg subcutaneous (SC) rituximab predicted by using stage 1 results was confirmed to have noninferior Ctrough levels relative to IV rituximab 375 mg/m2 dosing during maintenance, with a comparable safety profile in patients with follicular lymphoma. Additional investigation will be required to determine whether the SC route of administration for rituximab provides equivalent efficacy compared with that of IV administration.
Related Resources
Sign Up for Free e-newsletters
Regimen and Drug Listings
GET FULL LISTINGS OF TREATMENT Regimens and Drug INFORMATION