July 15, 2014
Rates of Testicular Cancer Rising in Young Hispanic-American Men
the Cancer Therapy Advisor take:
Although testicular cancer is one of the most common types of cancer among male adolescents and young adults, it is also one of the most treatable. A recent analysis of two datasets of the NCI's Surveillance, Epidemiology, and End Results program has indicated that the annual incidence of testicular cancer in Hispanic American men age 15 to 39 years increased 58% between 1992 and 2010 from 7.18 cases per 100,000 to 11.34 cases per 100,000. Historically, non-Hispanic white men have had the highest rate of testicular cancer compared with other racial and ethnic groups in the United States, but this research suggests that if the demonstrated trend continues, the rate of testicular cancer among Hispanic Americans will exceed that of non-Hispanic white men within the next decade. In all, the research demonstrates a need for increased awareness regarding the risk of testicular cancer in Hispanic adolescents and young adults and as well as the cause of the increase in testicular cancer incidence in this population. Lead investigator Rebecca Johnson, MD, of Seattle Children's Hospital further explained that cancer incidence data for Hispanic Americans has previously been too sparse to precisely evaluate the trends in testicular cancer but, being that Hispanic Americans are the fastest growing ethnic group in the United States and that their population is continually expanding, these findings are expected to have a considerable impact on the healthcare system in this country.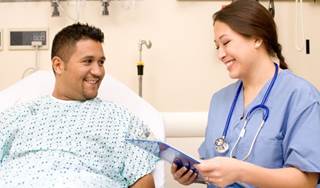 Rates of Testicular Cancer Rising in Young Hispanic-American Men
A new analysis has found that rates of
testicular cancer
have been rising dramatically in recent years among young Hispanic American men, but not among their non-Hispanic counterparts. The investigators found that between 1992 and 2010, the annual incidence of testicular cancer in 15- to 39-year-old Hispanic whites increased 58 percent from 7.18 cases per 100,000 in 1992 to 11.34 cases per 100,000 by 2010.
Related Resources
Sign Up for Free e-newsletters
Regimen and Drug Listings
GET FULL LISTINGS OF TREATMENT Regimens and Drug INFORMATION