July 22, 2014
Early Stem-Cell Transplantation, Ongoing Therapy Increase Survival in Multiple Myeloma
the Cancer Therapy Advisor take:
According to a study published at the European Hematology Association meeting in Milan, Italy, patients with multiple myeloma experienced survival benefits when treated autologous stem-cell transplantation (ASCT) after induction therapy. Federica Cavallo, MD, PhD, and colleagues found that patients treated with early stem-cell transplantation as consolidation therapy experienced an 85% 4- year survival rate, compared to the 76% survival rate for patients who received transplants at first relapse. For patients with early stem-cell transplantation, median time to first progression (PFS1) was about twice as long, and the time to second relapse was extended as well. Cavallo said this indicated that diagnosis is the best starting point, but researchers must wait for results from ongoing clinical trials to see if other chemotherapy combinations express the same results as the ones in Cavallo's trials. Her studies included finding ASCT's role in multiple myeloma treatment, which became unclear after the development of novel therapies. Researchers studied the effect of two different ASCT techniques on patient survival and PFS. Other clinical trials included the analysis of continuous therapy, which showed improvement for PFS1, PFS2, and overall survival. Although there were initial concerns about continuous therapy shortening subsequent remissions and overall survival, the results indicated that overall survival was not compromised.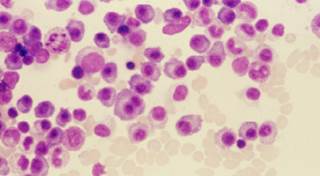 Early Stem-Cell Transplantation, Ongoing Therapy Increase Survival in Multiple Myeloma
Early stem-cell transplantation and ongoing therapy led to survival benefits for patients with newly diagnosed
multiple myeloma
, according to data reported at the European Hematology Association meeting in Milan. Another presentation at the EHA meeting showed a twofold increase in the time to first relapse (PFS1) with continuous versus fixed-duration therapy.
Related Resources
Sign Up for Free e-newsletters
Regimen and Drug Listings
GET FULL LISTINGS OF TREATMENT Regimens and Drug INFORMATION