November 17, 2015
FDA Approves Daratumumab for Refractory Multiple Myeloma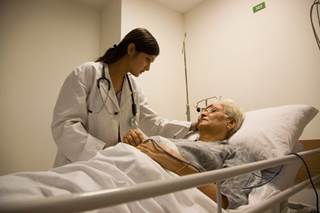 The FDA has granted accelerated approval for daratumumab (Darzalex) for the treatment of patients with heavily pre-treated multiple myeloma.
The U.S. Food and Drug Administration has granted accelerated approval for daratumumab (Darzalex) for the treatment of patients with heavily pre-treated or double-refractory multiple myeloma who have received at least 3 prior treatments, including a proteasome inhibitor and an immunomodulatory agent, or who are double-refractory to both.1
"Targeting proteins that are found on the surface of cancer cells has led to the development of important oncology treatments," said Richard Pazdur, MD, director of the Office of Hematology and Oncology Products in FDA's Center for Drug Evaluation and Research. "Darzalex provides another treatment option for patients with multiple myeloma who have become resistant to other therapies."
Approval is based on findings from 2 open-label studies that evaluated daratumumab in a total of 148 patients. Results showed that 29% of patients in the first study and 36% of patients in the second study achieved an objective response, with responses lasting on average for 7.4 months.
In terms of safety, the most common adverse events associated with daratumumab were infusion-related reactions, fatigue, nausea, back pain, pyrexia, and cough. Treatment with daratumumab may also cause lymphopenia, neutropenia, leukopenia, anemia, and thrombocytopenia.
Clinicians should be aware that daratumumab can interfere with serological testing, which is of importance in patients who require a blood transfusion.
RELATED: Patients With Multiple Myeloma May Benefit From NCCN, NCI Center Access
Health care providers should also advise women who may become pregnant to use effective contraception during treatment and for at least 3 months after treatment with daratumumab. Patients who are pregnant should not receive daratumumab.
The recommended dose of daratumumab is 16 mg/kg administered intravenously weekly for 8 weeks, then every 2 weeks for weeks 9 through 24, followed by every 4 weeks from week 25 until disease progression.
Daratumumab is the first human CD38 monoclonal antibody to treat cancer and the first therapeutic antibody approved for the treatment of multiple myeloma.
Reference
FDA approves Darzalex for patients with previously treated multiple myeloma [news release]. Silver Spring, MD: U.S. Food and Drug Administration; November 16, 2015. http://www.fda.gov/NewsEvents/Newsroom/PressAnnouncements/ucm472874.htm. Accessed November 16, 2015.