October 02, 2015
Novel Mutations Identified in Triple Negative Myeloproliferative Neoplasms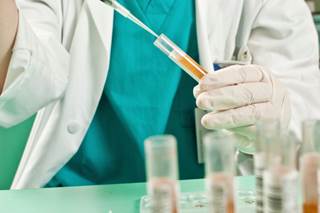 Triple negative cases of thrombocytopenia and meylofibrosis not associated with a homogenous disease entity.
Triple negative cases of essential thrombocytopenia (ET) and primary meylofibrosis (PMF) are not associated with a homogenous disease entity and may have activating genes outside the usual driving mutations due to possible hereditary disorders, according to an article published online in Blood.1
Mutations in exon 9 of CALR, exon 10 of MPL, or JAK2-V617F are the drivers for ET and PMF; disease states which induce clonal hematopoiesis and hyperproliferation of terminally differentiated myeloid cells. Approximately 10% of cases are absent of these and are deemed "triple negative."
Investigators performed whole exome sequencing (WES) on paired tumor and control samples from 8 patients. Evidence of clonal hematopoiesis was present in 5 patients and somatic mutations were present in 3 cases. Novel recurrent somatic mutations were not detected.
RELATED: CAL2 Detects CALRETICULIN Mutations in Bone Marrow Biopsies
From the samples with clonal hematopoiesis, 3 patients were analyzed by WES and a somatic MPL-S204P mutation, a germline MPL-V285E mutation, and a germline JAK2-G571S variant were identified.
Investigators then sequenced the entire coding region of MPL and JAK2 in 62 ET patients and 49 PMF patients who were all triple negative.
Four new somatic mutations and 1 germline mutation were found in 5 out of 62 of MPL mutation cases and each were gain-of-function. Five of 57 cases had JAK2 variants, 2 of which were also gain-of-function.
Reference
Jelena D, Feenstra M, Nivarthi Harini, et al. Whole exome sequencing identifies novel MPL and JAK2 mutations in triple negative meyloproliferative neoplasms [published online ahead of print September 30, 2015]. Blood. doi: 10.1182/blood-2015-07-661835.