July 16, 2014
Focus on Pancreatic Cancer Treatment and Research
the Cancer Therapy Advisor take:
It is predicted that in 7 years pancreatic cancer will become the second leading cause of cancer death in the United States. Despite the low 1- and 5-year survival rates for patients diagnosed with pancreatic cancer and the fact that pancreatic cancer continues to be difficult to detect and diagnose, progress is being made on education and treatment research.
With encouragement and support from advocacy groups like the Pancreatic Cancer Action Network, family philanthropies like the Lustgarten Foundation, and entertainment initiatives like Stand Up to Cancer, medical centers across the country are aiming to change the understanding and treatment of pancreatic cancer by testing targeted therapies, chemotherapies, and immunotherapies in hopes of discovering a breakthrough for this disease.
Approximately 95% of pancreas cancers are related to RAS gene mutations, for which there is currently no targeted treatment. In March of this year the National Cancer Institute outlined their plan to develop drugs that target RAS gene mutations as a result of Recalcitrant Cancer Research Act, a law that requires the institute to increase research related to cancers with low survival rates.
Research on the link between diabetes and pancreatic cancer, activating the immune system to attack pancreatic cancer, harnessing and reeducating macrophages, albumin combination treatment, and the effect of adding vitamin D to treatment regimens are also ongoing in an effort to make meaningful progress for patients with pancreatic cancer.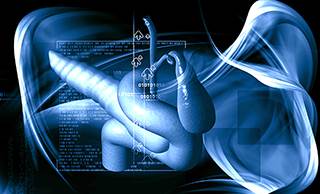 Focus on Pancreatic Cancer Treatment and Research
Just seven years from now,
pancreatic cancer
is projected to become this country's second-leading cancer killer, surpassed only by lung cancer and claiming 48,000 lives a year. Finally, pancreatic tumor cells are shrouded in - and shielded by - the stroma, a dense network of fibrous tissue, immune system cells, and scarring caused by inflammation.
Related Resources
Sign Up for Free e-newsletters
Regimen and Drug Listings
GET FULL LISTINGS OF TREATMENT Regimens and Drug INFORMATION