January 03, 2019
FOLFIRINOX or Gemcitabine as Adjuvant Therapy for Pancreatic Cancer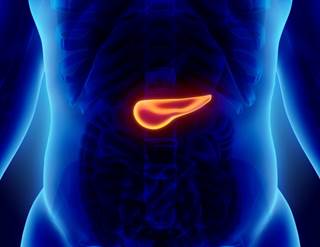 Study results suggest a new combination regimen could become the standard of care for some patients.
Among patients with pancreatic ductal adenocarcinoma, postsurgical chemotherapy with a modified regimen of fluorouracil, leucovorin, irinotecan, and oxaliplatin (mFOLFIRINOX) was associated with prolonged disease-free survival (DFS) compared with gemcitabine, reported authors of a randomized phase 3 clinical study (ClinicalTrials.org Identifier: NCT01526135), results of which were published in the New England Journal of Medicine.1
The regimen "led to significantly longer survival than gemcitabine among patients with resected pancreatic cancer, at the expense of a higher incidence of toxic effects," reported lead study author Thierry Conroy, MD, director, Institut de Cancérologie de Lorraine, France, and coauthors.1
The mFOLFIRINOX regimen involved 85 mg/m2 oxaliplatin, 180 mg/m2 irinotecan (and reduced to 150 mg/m2 after preplanned safety analysis), 400 mg/m2 leucovorin, 2400 mg/m2 fluorouracil. Patients assigned to receive gemcitabine received 1000 mg mg/m2 on days 1, 8, and 15 of 4-week cycles for 24 weeks.
At a median follow-up of 33.6 months, median DFS was 21.6 months for mFOLFIRINOX compared with 12.8 months for gemcitabine (hazard ratio [HR]: 0.58; 95% CI: 0.46-0.73; P < .001).1 Three-year DFS was 39.7% compared with 21.4%, respectively.
Median overall survival (OS) was 54.4 months compared with 35.0 months for mFOLFIRINOX and gemcitabine, respectively (HR for death: 0.64; 95% CI: 0.48-086; P = .003).1 Three-year OS was 63.4% compared with 48.6%, respectively.
mFOLFIRINOX was associated with higher rates of toxicities, however. Grade 3 or grade 4 adverse event rates were 76% compared with 53% for patients receiving gemcitabine. (One patient assigned to the gemcitabine group died of treatment-associated interstitial pneumonitis.)
Disclosure: The study was sponsored by R&D UNICANCER and conducted in collaboration with the Canadian Cancer Trials Group. For a full list of disclosures, please see the original study.
References
Conroy T, Hammel P, Hebbar M, et al. FOLFIRINOX or gemcitabine as adjuvant therapy for pancreatic cancer. New Engl J Med. 2018;379(25):2395-2406.