January 08, 2014
Childhood Cancer Survivors Challenge Internists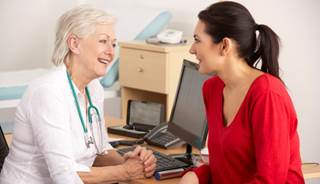 Childhood Cancer Survivors Challenge Internists
(HealthDay News) — Many general internists are unfamiliar with care guidelines for childhood cancer survivors (CCSs) and, on average, are somewhat uncomfortable caring for these patients, according to a study published in the Jan. 7 issue of the Annals of Internal Medicine.
"Adult childhood cancer survivors (CCSs) are at high risk for illness and premature death. Little is known about the physicians who provide their routine medical care," wrote Eugene Suh, MD, from the University of Chicago Medicine Comer Children's Hospital and University of Chicago, and colleagues1.
To learn more, Suh and colleagues conducted a cross-sectional survey among 1,110 U.S. general internists. Specifically, the researchers sought to determine the doctors' self-reported attitudes and knowledge about CCS care. Care preferences, comfort levels with caring for CCSs, and concordance with Children's Oncology Group Long-Term Follow-Up Guidelines were assessed in response to a clinical vignette.
The response rate was 61.6%1.
About half of internists (51.1%) reported caring for one or more CCS, and most of these internists (72%) did not receive a treatment summary, according to the researchers1.
On average, internists were "somewhat uncomfortable" caring for Hodgkin lymphoma, acute lymphoblastic leukemia, and osteosarcoma survivors. In addition, internists reported being "somewhat unfamiliar" with surveillance guidelines1.
In a clinical vignette about a young survivor of Hodgkin lymphoma, 90.6%, 85.1%, and 23.6% of respondents did not appropriately recommend breast cancer, cardiac, and thyroid surveillance, respectively1.
The most useful resources for caring for CCSs were access to surveillance guidelines and treatment summaries1.
"Although most general internists are willing to care for CCSs, many seem unfamiliar with available surveillance guidelines and would prefer to follow patients in collaboration with a cancer center," the researchers wrote1.
In an accompanying editorial, Dava Szalda, MD, and Jill P. Ginsberg, MD, both from The Children's Hospital of Philadelphia, assessed the study results and ultimately concluded that collaboration among pediatric providers, oncologists, patients, and internists who will care for these childhood cancer survivors is the key to successful care2.
References
Suh E, Daugherty CK, Wroblewski CK, et al. General Internists' Preferences and Knowledge About the Care of Adult Survivors of Childhood Cancer: A Cross-sectional Survey. Ann Intern Med. 2014;160(1):11-17-17.