February 26, 2015
4Kscore Might Reduce Unnecessary Prostate Biopsies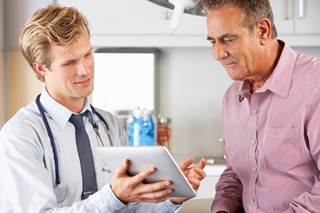 The 4Kscore could dramatically reduce the number of unnecessary prostate biopsies.
ORLANDO—The 4Kscore, an algorithmic analysis of data from a blood test that combines four kallikrein assays with clinical information to identify the probability of high-grade prostate tumors, could dramatically reduce the number of unnecessary prostate biopsies, according to a multi-institutional prospective study (Abstract 1) presented during the 2015 Genitourinary Cancers Symposium.1
"The 4Kscore demonstrated excellent accuracy in detecting high-grade prostate cancer," reported lead study author Sanoj Punnen, MD, of the Sylvestor Comprehensive Cancer Center and Department of Urology, University of Miami in Miami, FL. "It is a useful tool in selecting men who are likely to have high-grade disease and most likely to benefit from a prostate biopsy versus those men with no cancer or indolent cancer."
Prostate cancer screening is associated with improved cancer-specific mortality "but comes at a high cost," Dr. Punnen noted. "Saving one man's life requires that 1,068 men be screened and 48 undergo treatment…. Many men will have to undergo unnecessary testing," he said. "Biopsy entails significant risks of urinary incontinence and emotional stress."
The 4Kscore has been "well validated in multiple retrospective European cohorts," Dr. Punnen reported, but it has not previously been tested prospectively or in the United States.
A total of 1,012 men scheduled for prostate biopsy were enrolled at 26 United States cancer centers during 2013 and 2014.
RELATED: ASCO Endorses American Cancer Society Prostate Cancer Survivorship Care Guidelines
High-grade prostate cancer was detected in 231 (22.8%) study participants. The 4Kscore exhibited "near-perfect calibration, with the predicted probability of high-grade cancer being similar to the observed [rate]," Dr. Punnen reported.
"The 4Kscore demonstrated higher discrimination then the popular Prostate Cancer Prevention Trial Risk Calculator (PCPTRC) (area under curve 0.82 versus 0.74)," Dr. Punnen reported. "In addition, the 4Kscore displayed a higher net benefit by decision curve analysis than the PCPTRC and standard of care at all threshold probabilities used in common clinical practice. For example, if a 9% probability of high-grade cancer was used as a threshold for biopsy of the prostate, 434 (43%) unnecessary biopsies could have been avoided, while delaying diagnosis of only 24 (2.4%) high-grade cancers."
The risk of missing a high-grade cancer was less than 1%, he noted.
These results suggest "drastic reductions" in the number of biopsies would result from widespread use of the 4KScore, he concluded.
Reference
Punnen S, Sjoberg D, Zappala SM, et al. A multi-institutional prospective trial in the United States to confirm the 4Kscore identification of men with high-grade prostate cancer. 2015 Genitourinary Cancers Symposium. Abstract 1.