November 26, 2014
Androgen Deprivation Therapy in Men with Prostate Cancer and Increased Risk of Cardiovascular Events
the Cancer Therapy Advisor take:
A recently conducted meta-analysis of randomized clinical trials calculated the association between androgen deprivation therapy and cardiovascular mortality in patients with prostate cancer.
The meta-analysis showed that androgen deprivation therapy did not produce a statistically significant increase in cardiovascular mortality, but cardiovascular morbidity was not evaluated in the analysis. Because cardiovascular morbidity can have an effect on a patient's quality of life, new research was conducted to evaluate its association with androgen deprivation therapy in patients with prostate cancer.
A literature search/review was conducted that reviewed writings from January 1960 to June 2012. Large cohort studies and randomized clinical trials evaluating first-line endocrine therapy and androgen deprivation therapy for more than 6 months were screened for inclusion.
After screening and evaluation, 126,898 patients in four cohort studies and 10,760 patients from nine randomized clinical trials were identified. When researchers analyzed the randomized clinical trials they found no difference in the occurrence of acute myocardial infarction when comparing patients who received androgen deprivation therapy and patients who did not.
However, the analysis of nonfatal cardiovascular events occurring during a randomized clinical trial demonstrated a significant increase of risk in patients receiving androgen deprivation therapy. Also, when large cohort studies were included in the analysis, researchers determined an increased risk of acute myocardial infarction was found in patients who received androgen deprivation therapy.
According to these findings, researchers concluded that androgen deprivation therapy is associated with a negative impact on the patient's quality of life and regularly scheduled cardiovascular evaluation should be required for this group of patients.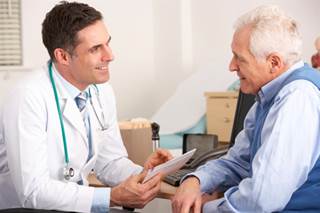 Association between ADT and cardiovascular mortality in patients with prostate cancer.
In this study, authors want to evaluate the risk of cardiovascular morbidity associated with ADT in patients with
prostate cancer
. The use of ADT in prostate cancer patients corresponded with a significant increase in cardiovascular morbidity associated with AMI and with nonfatal events.
Related Resources
Sign Up for Free e-newsletters
Regimen and Drug Listings
GET FULL LISTINGS OF TREATMENT Regimens and Drug INFORMATION