December 04, 2014
Androgen Deprivation Therapy is Inappropriate for Early-Stage or Localized Disease
the Cancer Therapy Advisor take:
In a study recently published in European Urology, researchers from the Henry Ford Hospital indicate that androgen deprivation therapy should not be used for men who have prostate cancer that has not spread beyond the prostate.
The researchers said that this message is especially relevant to men who are not considered to be high risk, because androgen deprivation therapy was show to expose patients to more side effects and was associated with an increased risk of death.
The research analyzed data from the Surveillance, Epidemiology, and End Results (SEER) database between 1992 and 2009 and then found records from Medicare and linked 46,376 men diagnosed with localized prostate cancer who did not undergo radical prostatectomy or radiation therapy for prostate cancer. The researchers found that among those patients, 38.5% were treated with androgen deprivation therapy.
Androgen deprivation therapy is an injected or implanted medicine that interferes with the body's typical testosterone creation process. The well established adverse events related to androgen deprivation therapy include weight gain, heart disease, impotence, and diabetes; mounting evidence suggests that androgen deprivation therapy is also linked to an increase in early death.
Although androgen deprivation therapy is still the standard of care for patients whose prostate disease has spread beyond the prostate, there is no evidence that it is a useful or effective treatment for early or localized disease.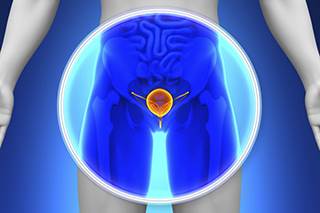 ADT should not be used for men who have prostate cancer that has not spread beyond the prostate.
A common
prostate cancer
therapy should not be used in men whose cancer has not spread beyond the prostate, according to a new study led by researchers at Henry Ford Hospital. The focus of the new study is androgen deprivation therapy (ADT), in which an injectable or implanted medication is used to disrupt the body's ability to make testosterone.
Related Resources
Sign Up for Free e-newsletters
Regimen and Drug Listings
GET FULL LISTINGS OF TREATMENT Regimens and Drug INFORMATION