October 17, 2014
Copper Plus Disulfiram May Be Effective For Men with Progressive Prostate Cancer
the Cancer Therapy Advisor take:
According to a new study published in the journal Cancer Research, researchers at Duke University School of Medicine in Durham, North Carolina, have found a new way to kill prostate cancer cells by administering copper and a drug that kills copper-containing cells.
Researchers have known that cancer cells, particularly those of prostate cancer, have a tendency to uptake copper. First, the researchers tried to deplete copper from the cells, thereby killing them, but that approach proved unsuccessful. Then, the researchers administered copper supplements along with disulfiram, an old drug that had been commonly used to treat alcohol misuse.
The combination resulted in significant decreases in prostate cancer growth in animal models with advanced disease. Furthermore, the researchers found that androgens, male steroid hormones that drive prostate cancer, increased copper accumulation in the tumor cells. This finding could suggest that the combination of disulfiram and copper may be particularly helpful for patients who have failed on hormone therapies.
The researchers hope to begin clinical trials of the copper-disulfiram combination in upcoming months to study the treatment in men with progressive prostate cancer.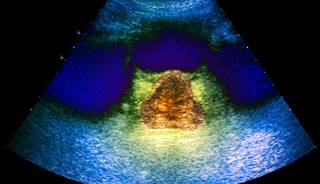 Administering copper and a drug that kills copper-containing cells in prostate cancer.
Like discriminating thieves, prostate cancer tumors scavenge and hoard copper that is an essential element in the body. But such avarice may be a fatal weakness. Researchers at Duke Medicine have found a way to kill prostate cancer cells by delivering a trove of copper along with a drug that selectively destroys the diseased cells brimming with the mineral, leaving non-cancer cells healthy. The combination approach, which uses two drugs already commercially available for other uses, could soon be tested in clinical trials among patients with late-stage disease.
"This proclivity for copper uptake is something we have known could be an Achilles' heel in prostate cancer tumors as well as other cancers," said Donald McDonnell, Ph.D., chairman of the Duke Department of Pharmacology and Cancer Biology and senior author of a study published Oct. 15, 2014, in Cancer Research, a journal of the American Association of Cancer Research.
Related Resources
Sign Up for Free e-newsletters
Regimen and Drug Listings
GET FULL LISTINGS OF TREATMENT Regimens and Drug INFORMATION