February 04, 2015
No Difference in Toxicity for Hypofractionated Radiotherapy in Prostate Cancer
the Cancer Therapy Advisor take:
In men with intermediate- or high-risk prostate cancer (PCa), hypofractionated radiotherapy (RT) is not non-inferior compared to standard fractionated RT in terms of acute genitourinary (GU) and gastrointestinal (GI) adverse effects, according to a recent study published The Lancet Oncology.
Researchers led by Shafak Aluwini, MD, of the Erasmus MC Cancer Institute in the Netherlands conducted a randomized, non-inferiority phase 3 trial across seven RT centers. They examined 820 patients from March 2007 to December 2010 who were randomly assigned to treatment with either standard fractionation or hypofractionation. Primary endpoint was 5-year relapse-free survival.
They found that three months after RT, 73 patients in the standard fractionation group and 75 patients in the hypofractionation group had grade 2 or worse GU toxicity, while 43 patients in the standard group and 42 in the hypo group had grade 2 or worse GI toxicity. Grade 4 GU toxicities were found in one patient per group, while no grade 4 GI toxicities were observed.
However, cumulative incidence of grade 2 or worse acute GI toxicity 120 days after RT was found to be higher in patients given hypofractionation, while there was no significant difference in cumulative incidence 120 days after RT in either group for GU toxicity.
The patients remain in follow-up to evaluate for efficacy endpoints.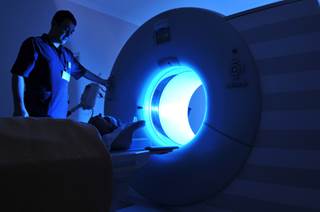 In PCa, hypofractionated RT is not non-inferior compared to standard fractionated RT.
The researchers examine whether patients experience differences in acute gastrointestinal and genitourinary adverse effects. Hypofractionated radiotherapy was not non-inferior to standard fractionated radiotherapy in terms of acute genitourinary and gastrointestinal cancer for men with intermediate-risk and high-risk
prostate cancer
.
Related Resources
Sign Up for Free e-newsletters
Regimen and Drug Listings
GET FULL LISTINGS OF TREATMENT Regimens and Drug INFORMATION