November 18, 2014
For Localized Castration-Resistant Prostate Cancer, High-Dose Palliative Radiotherapy is Effective
the Cancer Therapy Advisor take:
According to a new study published in the journal Clinical Oncology, researchers have found that high-dose palliative radiotherapy (HDPRT) is efficacious and safe for the treatment of patients with localized castration-resistant prostate cancer (CRPC).
For the study, researchers at one institution sought to evaluate the efficacy of HDPRT in patients with localized CRPC and to determine tolerability, factors that may cause disease failure, and both cause-specific and overall survival. They identified 51 patients who received a HDPRT between 2002 and 2010 that met the study criteria.
Researchers found that 16% of patients experienced local failure after HDPRT and the median duration to local failure was 18 months. Researchers estimated that 85% and 81% were free from local failure at 3 and 5 years, respectively. They also found that only one patient discontinued HDPRT due to severe lethargy that required hospital admission. Of the 51 patients, 30 had died by the end of 2011.
The median overall survival was 46 months. Of the 30 deaths, 15 were due to prostate cancer, 14 were from unrelated causes, and 1 was of unknown cause. In addition, researchers found that ECOG performance status was associated with overall survival on univariable analysis only. The findings suggest that HDPRT can provide local control and is safe for the treatment of patients with N0M0 CRPC.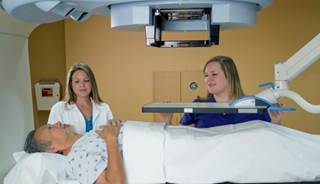 HDPRT is efficacious and safe for the treatment of localized CRPC.
The authors report the single institution experience on patient outcomes in this group using high–dose palliative radiotherapy (HDPRT). HDPRT was well tolerated and provided a high rate of local control in a clinically localised castration–resistant prostate cancer population.
Although prostate cancer remained the most frequent cause of death, some patients had extended survival without evidence of disease progression.
Related Resources
Sign Up for Free e-newsletters
Regimen and Drug Listings
GET FULL LISTINGS OF TREATMENT Regimens and Drug INFORMATION