December 11, 2018
Does Epigenetic Therapy With Panobinostat Reduce CRPC Bicalutamide Resistance?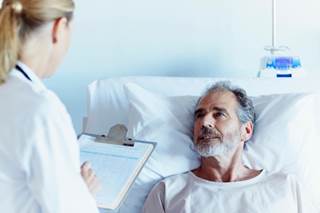 Panobinostat plus bicalutamide increased radiographic progression-free survival in patients with CRPC resistant to second-line antiandrogen therapy.
Epigenetic androgen receptor (AR) reprogramming is emerging as an important mechanism in prostate cancer treatment resistance. The histone deacetylase inhibitor (HDACi) panobinostat (40 mg 3 times a week for 2 weeks) plus bicalutamide (50 mg/day; 3-week cycle) modulates AR-driven resistance, according to outcomes from cell-line models, xenograft studies, and phase 1/2 clinical trials.1
"Epigenetic HDACi therapy reduces AR-mediated resistance to bicalutamide in CRPC models with clinical benefit to patients," reported lead study author Anna Ferrari, MD, a visiting professor at the division of medical oncology, Icahn School of Medicine at Mount Sinai, in New York, New York, and coauthors.1
The combination should be validated with a second-generation antiandrogen, the researchers argued.1
HDACi therapy modulates alterations in AR mRNA expression, splicing and transcriptional activation — repressing AR mRNA and protein levels that drive castration resistance and progression, as well as resistance to antiandrogens like bicalutamide and enzalutamide, Dr Ferrari told Cancer Therapy Advisor.
"HDACis also inhibit AR splicing that generates ARSv7, which has been implicated both in driving AR-refractory lethal CRPC through ligand-independent AR target gene activation and in generating secondary resistance of CRPC to AR-axis inhibitors (antiandrogens and androgen synthesis inhibitors)," she said.
Dr Ferrari and her colleagues surmised that panobinostat inhibits bicalutamide-resistant prostate tumor cell growth by curbing AR mRNA and protein levels directly, although she was quick to note that the exact molecular mechanism or mechanisms involved remain incompletely understood.
"We further surmise that AR-target gene levels on combined panobinostat plus bicalutamide treatment such as PSA [prostate-specific antigen] decreases, and delays in time to PSA rise in our clinical study are likely due to the primary restoration of bicalutamide antagonism rather than to a direct effect of [panobinostat]," Dr Ferrari said.