October 31, 2018
Prognostic Model for Survival in Metastatic Prostate Cancer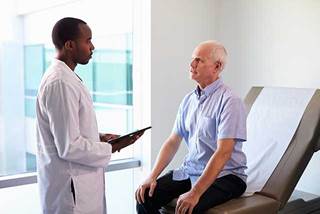 PREVAIL evaluated the efficacy of enzalutamide compared with placebo in chemotherapy-naïve mCRPC.
Using 11 variables (ie, risk factors) that are independently associated with overall survival (OS), researchers used patient-level data from the PREVAIL dataset to develop mathematical models that can provide prognostic information for men being treated with enzalutamide for chemotherapy-naïve metastatic castration-resistant prostate cancer (mCRPC).1
PREVAIL was a phase 3 study (ClinicalTrials.gov Identifier: NCT01212991) that evaluated the efficacy and safety of enzalutamide compared with placebo in chemotherapy-naïve mCRPC and showed that men treated with enzalutamide were at a 29% reduced risk for death.2
"Although the model was developed using the PREVAIL dataset, it could well be used for men who are being treated with abiraterone," corresponding author Andrew J. Armstrong, MD, MSc, a medical oncologist at the Duke Cancer Institute at Duke University in Durham, North Carolina, told Cancer Therapy Advisor.
Enzalutamide's initial indication has now expanded for the treatment of CRPC.3 Abiraterone acetate in combination with prednisone also received an expanded indication for the treatment of high-risk castration-sensitive prostate cancer.4
The prognostic model was published in the Annals of Oncology.1
Developing a Prognostic Model That Can Be Used in 2 Unique Ways
Dr Armstrong and colleagues used the PREVAIL trial database and randomly split patients into the training set (1159 patients) and the testing set (550 patients).
The PREVAIL dataset had identified 23 risk factors that were independently associated with outcomes. The researchers analyzed those 23 risk factors on the training set using a mathematical program or software to determine which of the risk factors most contributed to overall survival.
No treatment-biomarker interaction emerged as being significant, which indicated to the team that treatment with enzalutamide was independently associated with OS.
Because "parsimony" is needed in the development of any prognostic model, Dr Armstrong and his team whittled down the 23 risk factors to 11 essential variables — albumin, alkaline phosphatase, number of bone metastases, hemoglobin, lactate dehydrogenase, neutrophil-to-lymphocyte ratio (NLR), pain score, pattern of spread, prostate-specific antigen (PSA), time from diagnosis to randomization, and treatment.