November 12, 2015
Dose-intensified SRT Minimally Impacts Quality of Life in Biochemical Recurrent Prostate Cancer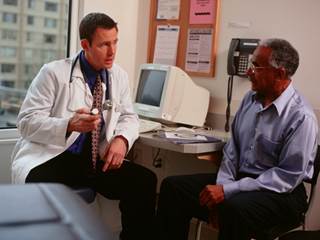 Dose-intensified salvage radiation therapy was associated with low rates of acute toxicity and minimally impacts quality of life.
Dose-intensified salvage radiation therapy (SRT) was associated with low rates of acute toxicity and minimally impacts quality of life, except for significantly worsening urinary symptoms, in patients with biochemically recurrent prostate cancer after prostatectomy, a recent study published online ahead of print in the Journal of Clinical Oncology has shown.1
After radical prostatectomy, approximately 15% to 40% of patients experience biochemical failure within 5 years. Current National Comprehensive Cancer Network (NCCN) guidelines for the management of prostate cancer recommend external beam radiation therapy, androgen deprivation therapy, or observation for biochemical failure after prostatectomy in patients with imaging studies negative for distant metastases.2
The only potentially curative treatment option at the earliest detection of biochemical failure is SRT, but though it may be beneficial, it is unclear how this approach will affect gastrointestinal and genitourinary toxicity.
Therefore, researchers sought to evaluate the impact of dose-intensified SRT without androgen-deprivation therapy on acute toxicity and early quality of life in patients with biochemical recurrence after radical prostatectomy.1
For the phase 3 trial, researchers enrolled 350 patients with biochemical failure but without evidence of macroscopic disease.
RELATED: New Model to Identify High-Risk Prostate Cancer May Decrease Unnecessary Biopsies
Participants were randomly assigned to receive either 64 or 70 Gy of radiotherapy therapy using 3-dimensional conformal radiation therapy or intensity-modulated radiotherapy therapy/rotational techniques.
Among the 344 evaluable patients aged 48 to 75 years, 30 patients had grade 2 and 2 patients had grade 3 genitourinary symptoms at baseline, while 1 patient had grade 2 baseline gastrointestinal toxicity.