July 31, 2018
First-Line Enzalutamide May Confer a Survival Benefit for Metastatic Castration-Resistant Prostate Cancer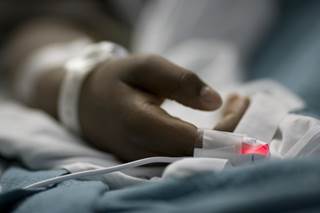 Patients may benefit from earlier lines of enzalutamide for the treatment of metastatic castration-resistant prostate cancer.
In an effort to determine if enzalutamide performed as well in real-life settings as was reported in clinical trials, investigators conducted a retrospective study of 117 patients with metastatic castration-resistant prostate cancer (mCRPC) who received the drug and published their findings in Clinical Genitourinary Cancer.1
"While indirect comparisons and retrospective data have shown better efficacy of enzalutamide vs abiraterone in PSA-response and PFS measurements," the researchers wrote, most retrospective studies in the past have also found that the sequencing of abiraterone before enzalutamide "appears to be more favorable than enzalutamide-abiraterone in terms of combined prostate-specific antigen (PSA)-[progression-free survival]."
To see if the order of treatments affected outcomes and to gauge whether one medication caused more fatigue or could confer more resistance to a subsequent treatment than another medication, the researchers examined the clinical records of patients with mCRPC from all seven public oncology centers in Hong Kong who were administered enzalutamide between August 2015 and October 2017.
The primary end point was progression-free survival (PFS) across all lines of CRPC treatment, and secondary end points included overall survival (OS), prostate-specific antigen (PSA)-response and tolerance.
They determined that PFS and OS were significantly associated with line of treatment, with earlier lines of treatment having a more favorable impact (first line/second line/ [third line and fourth line]; PFS: 7.1, 3.9, 2.2; OS: not reached, 15.8, 7.4 months; both P = .0002). Compared with the data from the AFFIRM and PREVAIL trials, there was a higher incidence of enzalutamide-related fatigue observed in patients.
But the fatigue could be effectively reduced if enzalutamide were used as a first-line therapy, the researchers hypothesized, and those patients may also experience longer PFS and OS, as well as a more frequent PSA response.
Although the researchers concluded the earlier use of enzalutamide may favorably influence outcomes and tolerability, they also conceded that "the optimal sequencing of treatments in mCRPC remains uncertain, as a sequence that starts with early enzalutamide may not be better than one that incorporates enzalutamide in later lines."
Reference
Poon DMC, Wong KCW, and Chan TW, et al. Survival outcomes, prostate-specific antigen (PSA) response, and tolerance in first and later lines of enzalutamide treatment for metastatic castration-resistant prostate cancer (mCRPC): a real-world experience in Hong Kong [published online July 21, 2018]. Clin Genitourin Cancer. doi: 10.1016/j.clgc.2018.07.008