July 20, 2015
Combination Gefitinib, Everolimus Not Associated with Significant Antitumor Activity
the Cancer Therapy Advisor take:
Patients with castration-resistant prostate cancer (CRPC) receiving a combination of gefitinib and everolimus did not demonstrate significant antitumor activity, according to an article published online in the journal Cancer.
This study consisted of two phases: phase 1 consisted of 10 patients with CRPC and two patients with glioblastoma who were administered 250 mg of gefitinib daily with a weekly dose of everolimus (30, 50, or 70 mg); phase 2 consisted of 27 patients who were administered gefitinib with everolimus (70 mg).
Results showed patients in phase 1 did not experience any pharmacokinetic interactions or dose-limiting toxicities. However, 18 out of 27 patients (67%) in phase 2 stopped receiving treatment before the 12-week evaluation point due to progression observed through prostate-specific antigen (PSA) levels (n=6), imaging (n=5), or due to a toxicity of grade 2 or higher (n=7).
Out of the total 37 patients with CRPC, 13 (35%) had rapidly increasing PSA levels after treatment initiation, which declined after discontinuing treatment.
Furthermore, a decrease in the standardized uptake value was observed using fluorodeoxyglucose positron emission tomography 24 to 72 hours after beginning treatment. This decrease was reported as being consistent with mammalian target of rapamycin (mTOR) inhibition in 27 of the 33 (82%) assessable patients—out of these 27 patients, 20 (74%) experienced a corresponding rise in PSA levels.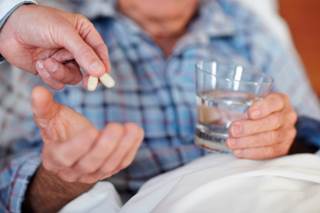 Castration-resistant prostate cancer patients receiving gefitinib and everolimus did not demonstrate antitumor activity.
How to Cite Rathkopf, D. E., Larson, S. M., Anand, A., Morris, M. J., Slovin, S. F., Shaffer, D. R., Heller, G., Carver, B., Rosen, N. and Scher, H. I. (2015), Everolimus combined with gefitinib in patients with
metastatic castration-resistant prostate cancer
: Phase 1/2 results and signaling pathway implications. Cancer.
Related Resources
Sign Up for Free e-newsletters
Regimen and Drug Listings
GET FULL LISTINGS OF TREATMENT Regimens and Drug INFORMATION