January 28, 2019
Gene-Expression Assay for Metastatic Prostate Cancer Put to the Test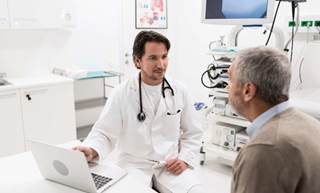 Almac Diagnostics has published analytical validation of a 70-gene assay designed for use with formalin-fixed paraffin-embedded samples.
After treatment for prostate cancer, a significant proportion of patients still go on to develop metastatic disease. To choose the best treatment plan, it's imperative to know whether a given cancer is likely to metastasize. To improve metastatic prediction, Almac Diagnostic Services, a member of the Almac Group, developed a gene-expression assay optimized for formalin-fixed, paraffin-embedded samples. They have recently published analytical validation of the assay, showing that it generates accurate, reproducible results.1
Called the Metastatic Assay, Almac's prognostic test measures expression of 70 genes that correspond with increased risk of metastatic disease. To define the metastatic profile, the researchers looked at gene expression in primary prostate tumors, metastatic lymph nodes, and normal prostate samples. The expression patterns clustered into 2 distinct groups, with the metastatic samples all clustering together in 1 and the normal tissue in the other. Among the primary tumor samples, however, some gene-expression patterns clustered with the metastatic samples, while others aligned with the normal group. When they tested the 70-transcript signature in FFPE prostatectomy samples, a positive assay was associated with metastatic recurrence.2
Because DNA and RNA isolated from FFPE specimens is often degraded, the assay developers had to work around the challenges of the source material. Laura Knight, PhD, vice president of bioinformatics, biostatistics and informatics at Almac Diagnostic Services, told Cancer Therapy Advisor that the company has "over ten years' experience working with FFPE material, and built up an expertise in particular with partially degraded RNA samples," and designed the assay to accommodate the deteriorating nucleic acids. They started with a cDNA microarray platform optimized for use with FFPE, and employed amplification techniques, like random primers, to minimize the impact of the degradation.
Because the team was working with FFPE samples, Dr Knight said, "it was important to show that our assay was robust." In a paper published in BMC Medical Genomics, Dr Knight and colleagues presented data showing the assay's accuracy, precision, and limits of detection.
Measuring accuracy was a little tricky, Dr Knight said. Because the assay is novel, there are no "gold standard" assay results that can be compared to the results of the Almac assay. Instead, the researchers first compared the array platform upon which the assay was developed with another, pan-cancer array, to show agreement. They also achieved high levels of agreement between the assay and both Nanostring nCounter and RNA-sequencing platforms.
They also showed that the assay could generate reliable results with as little as 25 ng of RNA, and that the assay performs reproducibly in different situations. "We were able to show the assay had a high repeatability and reproducibility," Dr Knight said. "You would get the same result using different operators, different reagents, and running on different instruments."