May 20, 2016
Prostate Cancer Patient-Physician Communication Improves Health-related Quality of Life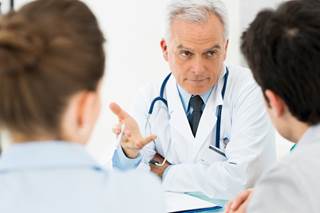 Prostate cancer survivors associated patient–physician communication with better outcomes in emotional, cognitive, social, and functional well-being.
Patient–physician communication is associated with improved health-related quality of life (QOL) for patients with localized prostate cancer who are undergoing radical prostatectomy, according to the findings from a prospective, observational study published in BJU International.1
"Our study is 1 of the few providing evidence for the impact of patient–physician communication on health outcomes," said study coauthor Lena Ansmann, PhD, of the University of Cologne in Cologne, Germany, in an interview with Cancer Therapy Advisor. "With our findings, we hope to again strengthen the relevance of patient–physician communication in cancer care."
Researchers collected data from 1772 patients with localized prostate cancer who were undergoing radical prostatectomy and were enrolled in the Hormonal Therapy, Active Surveillance, Radiation, Operation, and Watchful Waiting (HAROW) study. For 3 years patients filled out questionnaires every 6 months that included data on demographics, health-related QOL, and aspects of patient–physician communication. Their physicians also provided data on diagnosis, comorbidity, and treatment.
Patients generally rated patient–physician communication as high. Those who considered themselves to be well informed by their physician rated significantly higher on health-related QOL, and those who felt their physicians were more supportive rated significantly higher on emotional, cognitive, and social well-being. Patients who gave high ratings of physician devotion also reported significantly higher role functioning.
The researchers recommended that future patient interventions be specifically designed for urologists to increase their awareness of the importance of patient communication and patient–physician relationships for patients with prostate cancer.
"The most important strategy is to be patient-centered," the study's lead author, Nicole Ernstmann, PhD, University Hospital Bonn in Germany, told Cancer Therapy Advisor. "Each patient needs to be accepted with his or her concerns, fears, and questions. An empathetic understanding helps the patient feel safe and cope with the challenges of the cancer and its therapy. Active listening without interrupting is essential to building a trustful relationship necessary for the patient in the cancer journey."
RELATED: Bladder Cancer Risk Higher Following Prostate Radiotherapy
Dr Ernstmann also said the link between patient–physician communication and health care outcomes warrants further investigation.
"We assume that our findings could be replicated with other cancer populations, as studies show that patients [with cancer] often have similar psychosocial needs," she said. "Nevertheless, there are certain subgroups of patients with special psychosocial needs. So more studies on the link between communication and patient outcomes are needed to provide reliable evidence for the impact of patient–physician communication."
Reference
Ernstmann N, Weissbach L, Herden J, Winter N, Ansmann L. Patient-physician-communication and health related quality of life of localized prostate cancer patients undergoing radical prostatectomy - a longitudinal multilevel analysis [published online ahead of print April 1, 2016]. BJU Int. doi: 10.1111/bju.13495.