July 20, 2016
Era of Precision Oncology for Prostate Cancer 'Is Upon Us'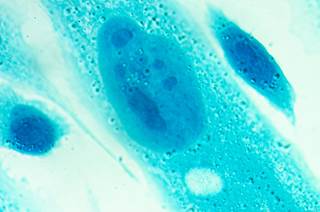 New biomarkers might revolutionize prostate cancer treatment, according to an educational presentation at the 2016 ASCO Annual Meeting in Chicago.
New biomarkers might revolutionize prostate cancer treatment, according to an educational presentation at the 2016 American Society of Clinical Oncology (ASCO) Annual Meeting in Chicago.1
"We are now entering an era of personalized prostate cancer therapy informed by treatment-specific biomarkers, some of which can be performed using a blood test," said Emmanuel S. Antonarakis, MD, associate professor of oncology at the Johns Hopkins Sidney Kimmel Cancer Center in Baltimore, Maryland. "One example is the AR-V7 biomarker, which can be interrogated from circulating tumor cells and may help direct patients away from hormone therapy and towards chemotherapy."
"The era of precision oncology for advanced prostate cancer is upon us," he said.
Until recently, most candidate biomarkers have involved gene mutations harbored by biopsied tumor tissue. But there is increasing interest in tests that assess circulating tumor cells (CTCs) or fragments of circulating tumor DNA (ctDNA) in patients' blood.
"Liquid biopsies are the way to go," said Srinivas Pentyala, PhD, director of translational research at the Stony Brook School of Medicine in New York. Blood tests are easier to perform, and are less invasive and more convenient for patients, he said.
Others agree.
"I think CTCs and cell-free DNA will be very helpful in the future to identify men with prostate cancer who are more or less likely to benefit from a range of therapies, including docetaxel, PARP inhibitors, immunotherapies, and [androgen receptor]-directed therapies," said Andrew J. Armstrong, MD, FACP, associate director for clinical research in genitourinary oncology at the Duke Cancer Institute in Durham, North Carolina.
There is growing demand for such tools in the clinic. Only skin cancer is more frequently diagnosed among men in the United States. More than 2.8 million US men are living with prostate cancer, and an estimated 180,890 men will be newly diagnosed in 2016, according to the National Cancer Institute (NCI).2 Currently, it is unclear which men with castration-resistant prostate cancer (CRPC) will benefit from taxane therapy and which will do better with the androgen-receptor signaling (ARS) inhibitors abiraterone and enzalutamide.3
But CRPC resistance involves AR signaling reactivation through 1 of several molecular pathways, making gene mutations in these pathways attractive targets for developing predictive biomarkers.