August 08, 2017
Racial Disparities in Prostate Cancer Outcomes: An Elusive Explanation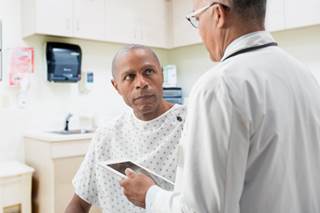 Increased insurance and clinical trial access, plus diversification of the medical workforce, may help to close treatment gaps.
African American men have the highest incidence of prostate cancer in the United States and are more than twice as likely to die from the disease as Caucasians, according to the National Cancer Institute.1
Studies have identified several genetic factors that may account for the higher incidence of prostate cancer among African Americans, but research is ongoing to determine why members of this patient group are more likely to die from the disease.2
A 2016 study published in Urologic Oncology showed that both African American men and Hispanic men are significantly less likely to receive treatment for prostate cancer compared with Caucasian and Asian men.3 Using data from the Surveillance, Epidemiology, and End-Results (SEER) program, the authors found that African American men were less likely to receive radical prostatectomy, brachytherapy, cryotherapy, and combination therapy compared with Caucasians.
Another study using SEER data showed that among men with intermediate-to-high disease, African American men were less likely to receive treatment.4
"If you look at the general population, and Caucasian men specifically, as their risk increases the more likely they are to get treatment," Kelvin A. Moses, MD, PhD, assistant professor in the department of urologic surgery at Vanderbilt University Medical Center in Nashville, Tennessee, told Cancer Therapy Advisor. "In African American men, as risk levels got higher, their likelihood for treatment decreased. There was a reverse trend in treatment for these men with worsening disease."
Among the possible explanations for increased mortality and lower likelihood of therapy receipt is access to care.
A study recently showed, however, that access to care does not seem to explain the observed racial differences in prostate cancer treatment.5 African American men had, on average, fewer choices based on where they lived and based on their insurance compared with Caucasian men. Yet African American men also reported more clinics within a 30-minute distance and less difficulty in getting to their physician's office.
In models that adjusted for sociodemographic and neighborhood characteristics, there were no differences by race noted in any of the domains examined. The researchers did find, however, that African American men were less likely to report a high quality of care (69% vs 81%; P < .001) and good physician-patient communication (60% vs 71%; P < .001) compared with Caucasians.
RELATED: Abiraterone Plus Prednisone, Androgen-deprivation for Metastatic Prostate Cancer
Dr Moses said that the data about perceived quality of care and good communication were consistent with prior research.
A 2003 study looking showed, for example, that patients with physicians of the same race had visits that were longer and that patients were more satisfied with their physicians than those with physicians of discordant race.6