May 25, 2017
In Focus: Cabozantinib for Renal Cell Carcinoma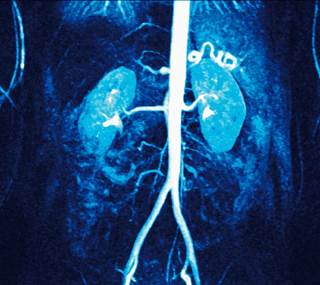 Ongoing studies are expected to provide information about how to sequence cabozantinib in clinical practice.
In April 2016, the US Food and Drug Administration (FDA) approved cabozantinib for the treatment of advanced renal cell carcinoma (aRCC) in patients who have received prior antiangiogenic therapy.1
Developed as an oral, small-molecule receptor tyrosine kinase inhibitor (TKI), cabozantinib inhibits angiogenesis, cellular proliferation, and metastasis.2
The approval was based on data from the METEOR study (ClinicalTrials.gov Identifier: NCT01865747), which compared the efficacy and safety of cabozantinib vs everolimus, the standard of care at the time the study was conducted.3,4
Efficacy of Cabozantinib From METEOR
The 187 patients randomly assigned to receive cabozantinib had a median progression-free survival (PFS) of 7.4 months vs 3.8 months for the 188 patients on everolimus. Patients who received cabozantinib were at a 42% reduced risk for progression or death (hazard ratio [HR]: 0.58; P < .001).3
The secondary endpoint of overall survival (OS) determined for the total study population showed a median OS of 21.4 months for the 330 patients in the cabozantinib group vs 16.5 months for the 328 patients in the everolimus group. With a HR of 0.66 (P = .00026), patients receiving cabozantinib were at a 44% reduced risk for death.
The objective response rate (ORR) was significantly higher for the cabozantinib group (17% vs 3%; P < .0001). All responses were, however, partial.4
The most common grade 3 or 4 adverse events (cabozantinib group vs everolimus group) were hypertension (15% vs 4%), diarrhea (13% vs 2%), fatigue (11% vs 7%), palmar-plantar erythrodysesthesia (8% vs 1%), anemia (6% vs 17%), hyperglycemia (1% vs 5%), and hypomagnesemia (5% vs 0%).
Dosing
Patients in the METEOR study received cabozantinib 60 mg oral once daily, which is the approved dose. Sixty percent of patients, however, required dose reductions due to adverse events of diarrhea, plantar palmar erythrodysesthesia, hypertension, and fatigue.
Physicians and patients should be aware that one should not eat at least 2 hours before and 1 hour after taking an oral dose.
Cabozantinib dose is reduced by 20 mg in patients who are concurrently taking strong CYP3A4 inhibitors (eg, ketoconozale) and increased by 20 mg in patients who are concurrently taking strong CYP34A inducers (eg, rifampicin).
RELATED: Characterization of Immune Cells in the RCC Tumor Microenvironment
Cabozantinib is permanently discontinued for patients who develop unmanageable fistula or gastrointestinal perforation, severe hemorrhage, arterial thromboembolic event (eg, myocardial infarction, cerebral infarction), hypertensive crisis or severe hypertension despite optimal medical management, nephrotic syndrome, or reversible posterior leukoencephalopathy syndrome.