November 06, 2015
Should Checkpoint Inhibitors Precede IL-2 as Initial Therapy for mRCC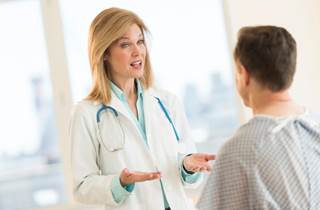 Differing opinions on initial therapy for patients with metastatic renal cell carcinoma.
MIAMI – There are differing opinions as to whether patients with metastatic renal cell carcinoma (mRCC) requiring initial therapy should initiate high-dose interleukin-2 (HD IL-2) or participate in an immune checkpoint inhibitor clinical trial, according to a debate at the 14th International Kidney Cancer Symposium 2015 (IKCS).1
HD IL-2 is typically offered to a select group of patients with mRCC, including those with asymptomatic disease, low tumor burden and slow tumor progression, good performance status, and good end-organ function. It requires intravenous infusions every 8 hours and is associated with acute capillary leak syndrome and multi-organ failure.
On the other hand, immune checkpoint inhibitors like nivolumab are extremely well tolerated and can be administered in the outpatient setting.
"When you ask patients 'what are your side effects?' they sometimes have to stop and think," said Hans Hammers, MD, PhD, of Johns Hopkins Medical Institute in Baltimore, MD, while explaining the safety of the immune checkpoint inhibitor nivolumab.
When comparing the efficacy of the 2 immunotherapies, HD IL-2 provided no clear median overall survival benefit in a randomized trial while nivolumab did.
"Anti-PD1 therapy should precede HD IL-2," Dr. Hammers concluded. "The real question is whether we should give a PD1 inhibitor before tyrosine kinase inhibitors."
RELATED: Novel Imaging Techniques May Eliminate Need for Renal Mass Biopsy for Locally-advanced RCC
Neeraj Agarwal, MD, of Huntsman Cancer Institute in Salt Lake City, UT, countered that "meaningful survival benefit with HD IL-2 occurs in about 50% of patients with mRCC, and the benefit extends beyond to those with objective responses."
Dr. Agarwal also noted that immune checkpoint inhibitors and HD IL-2 should fight mRCC together and are currently being evaluated in combination with each other in a clinical trial.
Reference
Hammers H, Agarwal N. Initial therapy for mRCC: high-dose IL-2 or a checkpoint inhibitor trial [Oral presentation at 14th International Kidney Cancer Symposium].