November 29, 2018
The Changing Treatment Landscape for Advanced Renal Cell Carcinoma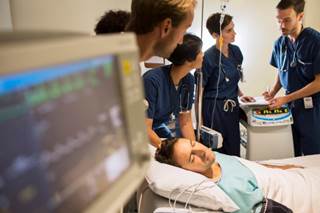 Interferon or high-dose interleukin-2 were the only available options for the treatment of metastatic RCC until 2005.
The treatment of clear cell advanced renal cell carcinoma (RCC) for treatment-naive patients may soon be expanding to include combinations of immunotherapy with targeted therapy. At the European Society for Medical Oncology (ESMO) 2018 Congress, data reported for JAVELIN Renal 101 showed that the combination of the program death ligand 1 (PD-L1) inhibitor, avelumab, and a tyrosine kinase inhibitor (TKI) targeting the vascular endothelial growth factor receptor (VEGFR), axitinib, significantly prolonged progression-free survival (PFS) and doubled the objective response rate (ORR) compared with the current standard of care, sunitinib, also a VEGFR TKI.1
During a presentation of the data at ESMO, Robert Motzer, MD, Memorial Sloan Kettering (MSK) Cancer Center, New York, New York, said: "The efficacy, benefits, and favorable safety profile support avelumab plus axitinib as a new first-line standard of care in advanced RCC. This is the first Phase 3 trial of a checkpoint inhibitor combined with a TKI not only in advanced RCC, but across all malignancies."
JAVELIN Renal 101
JAVELIN Renal 101 was an open-label, phase 3 study, in which 886 patients (including 560 patients with PD-L1+, advanced RCC) were randomly selected to receive the combination of avelumab and axitinib (442 individuals) or sunitinib (444 individuals).1
Based on preclinical studies, the combination of an immune checkpoint inhibitor and an inhibitor of angiogenesis was rational, Dr Motzer observed. He noted that along with its antiangiogenic effects, axitinib can also act an immune modulator, as it increases tumor cell infiltration and decreases suppressor cell activity.2 In addition, simultaneous inhibition of the PD-1/PD-L1 axis and VEFGR/VEGF has been reported to have synergistic effects in preclinical models.3
Dr Motzer indicated that the combination was selected based on data from JAVELIN Renal 100 — a phase 1b study, which reported an ORR of 58% and a favorable safety profile for use in the first-line setting.4 In addition, the study also showed higher response rates in patients with PD-L1+ tumors, he noted.
Dr Motzer also pointed out at the ESMO 2018 Congress press conference that axitinib, rather than sunitinib, was chosen for the combination because "sunitinib does not mix well with other drugs because of its gastrointestinal and other toxicities." Axitinib is linked to fewer of these types of toxicities, he said.
Patients with clear cell advanced RCC with at least 1 measureable lesion as defined by Response Evaluation Criteria In Solid Tumors (RECIST) v1.1 were enrolled. Patients were required to have tissue available for PD-L1 staining.
In the combination arm, patients received avelumab 10 mg/kg intravenously every 2 weeks, and axitinib 5 mg was administered orally twice daily in 6-week cycles. Patients in the control arm received sunitinib through a standard dosing schedule.
PFS, as determined by an independent review committee (IRC) in patients with PD-L1+ tumors, along with OS, were the coprimary end points of the study.
An interim analysis conducted by an independent external data monitoring committee determined that the primary PFS end point was met.