November 06, 2018
Microwave Ablation for Early-Stage Renal Tumors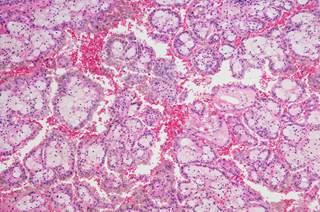 Image-guided microwave ablation of early-stage renal tumors shows promise but a new retrospective study from the Mayo Clinic found some cases of major bleeding.
Percutaneous microwave ablation (MWA) is a promising treatment strategy for patients with cT1-stage renal tumors, but more research into patient risk stratification and selection is needed, as MWA carries a risk of major bleeding and genitourinary-tract complications, according to researchers from the Mayo Clinic in Rochester, Minnesota, who published a retrospective review in the American Journal of Roentgenology (AJR).1
The findings are the latest data to bolster the case for MWA efficacy against kidney tumors.1-7
MWA involves percutaneous positioning of needle-like applicators into tumors to heat and kill tumor cells with microwave heat. It creates coagulative necrosis similar to radiofrequency ablation, which delivers high-frequency electrical currents to create heat. Unlike MWA and radiofrequency thermal ablation, cryoablation uses very cold temperatures to kill tumor tissue.
Antenna placement can be guided using computed tomography (CT), magnetic resonance imaging (MRI), or ultrasound (US).
"We prefer ultrasound because it involves no radiation; has the ability to continuously watch during the antenna placement and ablation; has high soft-tissue contrast; and has greater flexibility relative to MRI or CT when choosing a site to enter the skin," said Shane Wells, MD, assistant professor of diagnostic radiology at the University of Wisconsin-Madison in Madison.
When renal tumors are inaccessible through the use of ultrasound antenna placement, CT can be used instead, according to Dr Wells (who is also a consultant for Ethicon, Inc). MRI, an alternative to CT and ultrasound guidance, is used at a minority of institutions.
In the current Mayo study, estimated 3-year local progression-free survival and cancer-specific survival were 96% and 94%, respectively.1 Overall, 19% of patients experienced complications; 2 patients had minor complications and 3 (11.5%) suffered grade 3 or higher major bleeding and urinary tract complications. One patient died.1
But other, larger studies suggest the procedure has a better safety profile than what was described in the Mayo stusy.3,4