December 11, 2014
Capecitabine Monotherapy Does Not Improve Early-Stage Breast Cancer Survival in Elderly Patients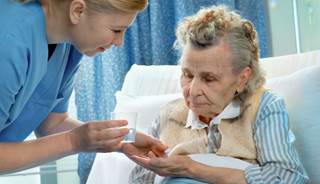 Capecitabine monotherapy does not improve outcomes in elderly patients.
SAN ANTONIO—Despite lower toxicity levels, capecitabine monotherapy does not improve outcomes in elderly patients with moderate- or high-risk early breast cancer, according to data from the prospective, multicenter, randomized open label, phase 3 ICE study presented at the 2014 San Antonio Breast Cancer Symposium.
"The ICE study failed to show that adjuvant capecitabine improves invasive disease-free survival in patients receiving ibendronate," reported lead study author Gunter von Minckwitz, MD, chairman of the German Breast Group and a professor of gynecology at University of Frankfurt in Germany.
"We tested capecitabine as single-agent chemotherapy in elderly women with early-stage breast cancer, who also took the bisphosphonate, ibandronate," he said. "After 61 months of follow-up, we found no difference in disease-free survival (DFS) and overall survival (OS) between those who took capecitabine plus ibandronate and those who took ibandronate alone."
Combination chemotherapy "should be tried with optimal supportive care even in elderly patients," he concluded. "We used ibandronate because many patients at this age have osteopenia/osteoporosis, especially after chemotherapy. Bisphosphonates are also potentially preventive for breast cancer metastasis."
Although approximately 50% of newly diagnosed breast cancers arise in women at ages older than 65 years, these patients are under-represented in clinical trials, he noted.
"The ICE study was designed to investigate if a mono-chemotherapy with capecitabine in addition to the third-generation bisphosphonate ibandronate will improve the outcome compared to ibandronate alone in elderly breast cancer patients with medium- and high-risk primary breast cancer not suitable for standard chemotherapy."
A total of 1,358 women older than age 63 years were enrolled in the study. Participants were diagnosed with unilateral or bilateral breast cancers that were either lymph-node positive or high-risk node-negative (tumor size ≥ 2 cm, grade > I, and/or estrogen receptor– and progesterone receptor–negative), and with a Charlson Comorbidity Index (CMI) ≤ 2, were enrolled in the study between June 2004 and August 2008, the authors reported.
Median age of the study participants was 71 years (range, 64-88 years).
They were randomly assigned to receive ibandronate alone for 2 years (n=681) or ibandronate with capecitabine (n=677) within 6 months after axillary dissection, they reported. Approximately 81% of participants in both groups had hormone receptor–positive disease and received standard endocrine therapy.
At 61.3 months follow-up, there was no difference in DFS (85% vs. 84% in capecitabine and control-group participants, respectively) and overall survival (79% vs. 75%), Dr. von Minckwitz reported.
No subgroups showed significant differences, he noted.
However, "due to excellent overall prognosis and the high proportion of luminal type tumors, longer follow-up to observe potential late effects of capecitabine is needed," he cautioned.
"Outcome of elderly patients with moderate or high-risk early breast cancer receiving ibandronate alone is very favorable (DFS 77% and OS 88%) at 5 years," he concluded.
This study was funded by Roche and AstraZeneca.
Reference
von Minckwitz G, Reimer T, Potenberg J et al. S3-04. Presented at: San Antonio Breast Cancer Symposium 2014. Dec. 9-13, 2014; San Antonio, TX.