December 10, 2014
Primary Breast Tumor Gene Signature Might Predict Fulvestrant Response in Metastatic Disease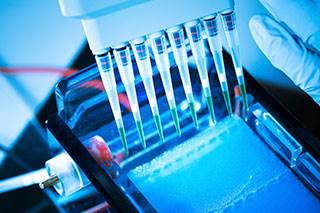 37-gene signature analysis of primary HR+ breast tumors appears to predict progression-free survival.
SAN ANTONIO—A 37-gene expression signature analysis of primary hormone receptor–positive (HR+) breast tumors appears to predict progression-free survival (PFS) in patients administered single-agent fulvestrant endocrine therapy for metastatic breast cancer after development of drug resistance to prior endocrine treatment, according to a subgroup analysis of data from the randomized phase 3 CONFIRM trial study presented at the 2014 San Antonio Breast Cancer Symposium.
"We identified a potential 37-gene signature that clusters patients into two groups with different responses to fulvestrant," reported lead author Rinath M. Jeselsohn, MD, of Dana-Farber Cancer Institute, Boston, MA..
A follow-up study is needed to validate the gene signature's potential in treatment decision-making for patients with HR+ metastatic disease, Dr. Jeselsohn cautioned.
Fulvestrant has a favorable toxicity profile, "highlighting the importance of biomarkers to predict response," she noted. Other multi-gene expression assays have been developed to predict response to endocrine treatments and outcomes in patients with early stage HR+ breast cancer, Dr. Jeselsohn and coauthors reported.
However, despite the fact that many patients with metastatic estrogen receptor–positive (ER+) disease will not respond to endocrine treatments, prognostic assays for these patients have been "limited" and metastatic tumor specimens are sometimes unavailable for analysis, she noted. The researchers therefore "sought to identify a molecular profile in the primary tumors of patients who developed disease recurrence that could predict response to endocrine treatment in metastatic disease," Dr. Jeselsohn said.
The CONFIRM trial compared 500-mg versus 250-mg treatment with fulvestrant in postmenopausal women with advanced HR+ breast cancer. The authors used NuGen Ovation FFPE WTA System and Affymetrix HTA 2.0 GeneChip panels to analyze formalin-fixed paraffin-embedded primary breast tumor samples from 112 participants, the majority of whom had developed metastatic disease during adjuvant endocrine therapy (n=55) or who suffered de-novo metastasis (n=39).
Within the gene expression signature, TFAP2C (AP-2γ) stood out as particularly prognostic for patients receiving fulvestrant for metastatic disease.
"We found that high mRNA and protein levels of AP-2γ correlated with decreased [PFS] response to fulvestrant [P = 0.0228]," Dr. Jeselsohn said.
Previous studies have shown that overexpression of TFAP2C suppresses cell cycle inhibitor p21 and correlates with poor response to endocrine treatment, and reduced survival, she noted.
High progesterone receptor level was associated with improved PFS (>6 Allred score; hazard ratio [HR]: 0.59; P = 0.016) and positive HER2 status was associated with decreased PFS (HR: 1.91; P = 0.037), Dr. Jeselsohn reported.
"There was also a trend between high Ki67 and decreased PFS [HR: 1.13; P = 0.064, not significant]," she reported.
Molecular subtype classifications (surrogate PAM50 and OncotypeDX) did not correlate with PFS or overall survival (OS).
"Preclinical studies to understand the role of AP-2γ and the entire gene network in resistance to fulvestrant are warranted," she concluded.
References
Jeselsohn RM, Barry WT, Zhao J et al. S1-01. Presented at: San Antonio Breast Cancer Symposium 2014. Dec. 9-13, 2014; San Antonio, TX.