December 11, 2014
10-Year Update Confirms Long-Term Survival Benefits for Weekly Paclitaxel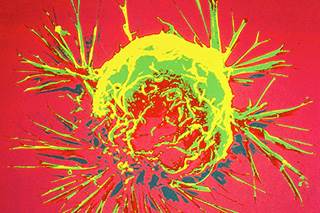 For patients with TNBC, paclitaxel is more effective when administered on a weekly basis.
SAN ANTONIO— Long-term survival rates are better for paclitaxel administered every week than every 3 weeks in patients with triple-negative breast cancer (TNBC), according to exploratory analyses conducted as part of a 10-year update of phase 3 clinical trial data presented at the 2014 San Antonio Breast Cancer Symposium.
"In the entire population, adjuvant weekly paclitaxel and every-3-week docetaxel were associated with significantly improved DFS and marginally improved overall survival compared with every-3-week paclitaxel when given sequentially following AC (doxorubicin-cyclophosphamide)," reported lead study author Joseph A. Sparano, MD, of the Montefiore Medical Center, Albert Einstein College of Medicine, in Bronx, NY.
"For triple-negative disease, the most effective taxane regimen was weekly paclitaxel—the 10 year DFS [disease-free survival] rate improved from 59% to 69%, and OS [overall survival] rate improved from 66% to 75%."
"All patients received 4 cycles of AC (doxorubicin 60 mg/m2 and cyclophosphamide 600 mg/m2) every 3 weeks, followed by taxane therapy with either: (1) paclitaxel 175 mg/m2 every 3 weeks for 12 weeks (P3), (2) paclitaxel 80 mg/m2 weekly for 12 weeks (P1), (3) docetaxel 100 mg/m2 every 3 weeks four 12 weeks (D3), or (4) docetaxel 35 mg/m2 weekly for 12 weeks (D1)," he noted. "Patients with ER [estrogen receptor]-positive breast cancer also received endocrine therapy for at least 5 years, including either tamoxifen and/or an aromatase inhibitor."
The team previously reported that at a median follow-up of 5.3 years, DFS had improved with both adjuvant P1 and D3, compared with P3,and that both obesity and black race were independently associated with poorer outcome in patients with ER-positive cancers.
Now, at 12.1 years follow-up, Dr. Sparano reported that there remains no significant difference in DFS by taxane (P = 0.322) or schedule (P = 0.88)—but there was a significant interaction between taxane and schedule for both DFS and OS (P < 0.001 and P = 0.007, respectively)."
For hormone receptor–positive, HER-negative/unknown disease, extended adjuvant endocrine therapy "may be more relevant in this population at risk for late relapse," he noted.
Among these patients, black race and obesity (BMI ≥ 30 kg/m2) were each independently associated with poorer OS, confirming earlier findings.
Reference
Sparano JA, Zhao F, Martino S et al. S3-03. Presented at: San Antonio Breast Cancer Symposium 2014. Dec. 9-13, 2014; San Antonio, TX.