December 10, 2015
Recent Clinical Findings for Targeting CDK 4/6 in Breast Cancer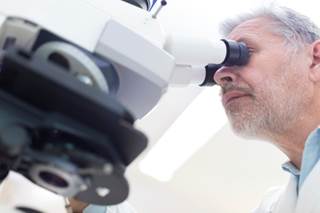 Dr Finn reviewed recent clinical study findings for palbociclib, a first-in-class CDK 4/6-specific inhibitor, abemaciclib, and ribociclib.
SAN ANTONIO—"For decades, cyclin-dependent kinases (CDKs) have been known to be critical regulators of cell cycle progression, leading to the Nobel Prize in 2001 for their identification and characterization," said Richard S Finn, MD, co-director of the Signal Transduction and Therapeutics Program, Jonsson Comprehensive Cancer Center, Geffen School of Medicine at UCLA.1
Alterations in these and associated proteins were later implicated in cancer, including "various molecular subtypes, prognosis, and response to therapy," in breast cancer, Dr Finn said at the 2015 San Antonio Breast Cancer Symposium.
Alterations in these proteins in breast cancer appear to be common, especially in the Cyclin D1/CDK4/6/RB pathway. Early attempts to target the pathway were not successful, he noted. But recent findings have sparked renewed interest in CDK inhibitors.
"The concept of blocking CDKs has been around for some time but only recently have they seen clinical success," explained Dr Finn. "First generation CDK inhibitors did not demonstrate significant clinical activity and had unacceptable toxicity. In addition to having an appropriate compound, as with other molecular targeted agents, identification of a patient population most likely to benefit is critical to successful clinical development."
Dr Finn reviewed recent clinical study findings for palbociclib, a first-in-class CDK 4/6-specific inhibitor, abemaciclib, and ribociclib.
"Palbociclib acts synergistically with tamoxifen in ER-positive breast cancer cell lines," he noted.
The PALOMA-1/TRIO-18 clinical trial found that adding palbociclib to letrozole significantly improved progression-free survival (PFS; HR 0.488, 95% CI: 0.319-0.748; P = .0004).
In February 2015, the U.S. Food and Drug Administration (FDA) granted accelerated approval to palbociclib for use as an initial endocrine-based therapy in combination with letrozole for treating postmenopausal women diagnosed with ER-positive/HER2-negative, advanced breast cancer.
"This indication is approved under accelerated approval based on progression-free survival (PFS)" findings, he noted. "Continued approval for this indication may be contingent upon verification and description of clinical benefit in a confirmatory trial (PALOMA-2)."
The most common toxicities were neutropenia, leukopenia, and fatigue—but not febrile neutropenia and there was no drug-drug interaction with letrozole. Complete blood counts should be taken before initiating palbociclib therapy, and then on Day 1 of each cycle. "For the first 2 cycles, check on Day 14 and as clinically indicated," he advised.
Adding palbociclib to fulvestrant is associated with significant gains in overall on-treatment quality of life scores.
"Palbociclib in combination with letrozole and now fulvestrant demonstrated significant clinical activity over endocrine therapy alone in advanced ER+ breast cancer and is the first approved CDK inhibitor," Dr Finn said. "The combination was generally well tolerated, with uncomplicated neutropenia as the most frequent adverse event."
RELATED: Breast Conserving Surgery Does Not Harm Long-term Survival or Time to Progression
Confirmatory phase 3 clinical trials are now underway for palbociclib in high-risk early breast cancer and combined with exemestane in HR-positive/HER-negative metastatic breast cancer in patients with resistance to nonsteroidal aromatase inhibitors.
"In October 2015, the FDA has also granted Breakthrough Therapy Designation for abemaciclib as a monotherapy for heavily pretreated patients with refractory hormone-receptor-positive advanced breast cancer," Dr Finn noted.
Ribociclib shows clinical activity in advanced breast cancer as a single agent and in combination with letrozole, everolimus, and exemestane, he said.
Reference
Finn R. MS1-2 Targeting CDK 4/6 in breast cancer. Oral presentation at: San Antonio Breast Cancer Symposium 2015; December 10, 2015; San Antonio, TX.