December 14, 2016
Anthracycline in Early Breast Cancer: Regimens Offer Similar Outcomes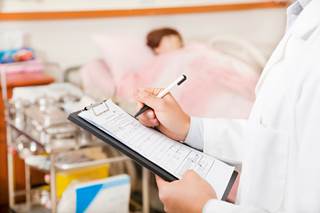 Three cycles of epirubicin plus cyclophosphamide followed by docetaxel offered no survival benefits.
Three cycles of epirubicin plus cyclophosphamide (EC) followed by docetaxel (EC-D) offered no survival benefits over 6 cycles of docetaxel plus cyclophosphamide (DC) for women with early-stage, high-risk, node-positive, ER-negative, HER2-positive breast cancer without TOP2A alterations, according to findings from the randomized phase 3 READ clinical trial (ClinicalTrials.gov Identifier: NCT00689156), presented at the 2016 San Antonio Breast Cancer Symposium.1
"EC followed by docetaxel did not demonstrate any overall significantly-superior efficacy compared to DC in patients with early and TOP2A-normal breast cancer," reported lead study author Bent Ellertsen, MD, PhD, on behalf of the Danish Breast Cancer Cooperative Group. "Patients more often reported adverse events following EC-D as compared to DC."
Findings suggest that EC-D benefits might be greater for patients with grade 1-2 tumors and in postmenopausal women, while DC might be associated with superior outcomes among premenopausal women and those with grade 3 tumors, Dr Ellertsen said.
Anthracyclines are topoisomerase II inhibitors. Although clinical trial experience has suggested an absolute 3% benefit for anthracycline-based chemotherapy in survival for patients with early breast cancer, this might be because a small subset of patients who experience "a much larger benefit," Dr Ellertsen noted.
Several candidate tumor-specific mechanisms could explain that situation. "HER2 amplification, TOP2A alteration, CEP17 duplication and TIMP1 immunoreactivity have retrospectively been associated with benefit [from anthracyclines] either alone or in combination," Dr Ellertsen said.
The study authors evaluated the outcomes among patients with TOP2A-normal breast tumors.
The READ Trial stratified 5160 women with TOP2A-tested early breast cancer: 835 with altered TOP2A status and 2012 women with normal TOP2A-status early breast cancer. Women with normal-TOP2A status were randomly assigned to receive EC-D or DC, with 994 of 1001 women in the EC-D group receiving the allocated treatment and 1006 of 1011 women assigned to the DC study group receiving allocated treatment, Dr Ellertsen reported.
At a follow-up of 5 years, neither disease-free survival (DFS) nor overall survival (OS) differed between study groups. Subgroup analysis results for DFS suggested possible associations favoring EC-D for tumor grades 1 and 2, and favoring DC for tumor grade 3. Subgroup analysis for OS suggested that grade 2 tumors are best treated with EC-D.
RELATED: Larger Social Networks Linked With Better Breast Cancer Survival
Patient-reported adverse events included mucositis (grade 3-4 affecting 25% of patients in the EC-D group and 11% in the DC group; myalgia/arthralgia (43% vs 33%, respectively); peripheral neuropathy (12% vs 8%, respectively), and fatigue (30% vs 24%, respectively).
Reference
Ejlertsen B, Tuxen MK, Jakobsen EH, et al. DBCG 07-READ: A randomized phase III trial comparing six cycles of docetaxel and cyclophosphamide (DC) to three cycles of epirubicin and cyclophosphamide followed by three cycles of docetaxel (EC-D) in patients with early breast cancer. Paper presented at: 39th San Antonio Breast Cancer Symposium; Dec 2016; San Antonio, TX.