November 21, 2017
Goserelin Mitigates Risk of Ovarian Failure, Improves Breast Cancer Survival Rate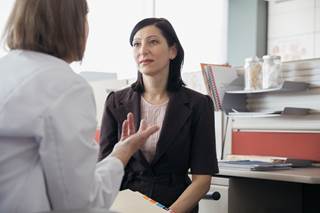 Previous analysis of the SWOG S0230/POEMS study suggested that goserelin improves survival rates, ovarian function, and raises the likelihood of pregnancy among patients with hormone receptor–negative
Adding goserelin to a standard chemotherapy regimen reduces the risk of ovarian failure and improves 5-year survival rates among patients with hormone receptor–negative breast cancer, according to research being presented at the 2017 San Antonio Breast Cancer Symposium (SABCS).1
Previous analysis of the SWOG S0230/POEMS study (ClinicalTrials.gov Identifier: NCT00068601) suggested that goserelin, which suppresses estrogen production, improves survival rates, ovarian function, and raises the likelihood of future pregnancy among patients with hormone receptor–negative disease. Five-year follow-up data for survival are being presented at this year's SABCS.
Two hundred and fifty-seven patients were randomly assigned to receive goserelin plus a cyclophosphamide-containing chemotherapy regimen or chemotherapy alone; 218 patients (median age, 37.7 years) had evaluable data overall, 136 patients had evaluable data regarding ovarian failure, and 186 had menstrual data.
The estimated 5-year overall survival rates were 92% and 83% in the goserelin and standard chemotherapy groups, respectively; the estimated 5-year disease-free survival rates were 88% and 79% in the goserelin and standard chemotherapy groups, respectively.
After a median 5.1 years' follow-up, 22% of patients in the goserelin group and 12% of patients in the standard chemotherapy group had at least 1 pregnancy.
Patients in the goserelin group had a lower 2-year risk of ovarian failure (odds ratio, 0.3) and a 10% higher rate of menses-recovery.
The authors concluded that "goserelin during chemotherapy for hormone receptor–negative breast cancer reduces [ovarian failure] risk and, after 5 years of follow-up, continues to be associated with more pregnancies and improved survival compared with chemotherapy without goserelin."
Read more of Cancer Therapy Advisor's coverage of the San Antonio Breast Cancer Symposium (SABCS) 2017 meeting by visiting the conference page.
Reference
Moore HCF, Unger JM, Phillips KA, et al. Final analysis of SWOG S0230/Prevention of early menopause study (POEMS). Poster presentation at: 2017 San Antonio Breast Cancer Symposium; December 5-9, 2017; San Antonio, TX.