December 05, 2018
CAR-T Trial for Triple-Negative Breast Cancer Under Way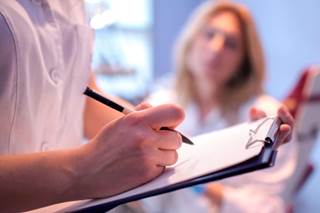 Researchers reported early findings of a trial evaluating chimeric antigen receptor T-cell therapy for a subset of triple-negative breast cancer patients.
A phase 1 trial (ClinicalTrials.gov Identifier: NCT02706392) is underway at Fred Hutchinson Cancer Research Center to evaluate a chimeric antigen receptor (CAR) T cell therapy in patients with cancer who have receptor tyrosine kinase-like orphan receptor 1 (ROR1)-positive disease, including those with triple-negative breast cancer (TNBC). The trial progress and early data for patients with TNBC were presented at the 2018 San Antonio Breast Cancer Symposium (SABCS) in Texas.1
The ongoing trial aims to evaluate the safety of administering escalating doses of a cell therapy that expresses a ROR1-specific CAR. Patients receiving the CAR T cell therapy include those with TNBC, chronic lymphocytic leukemia, mantle cell lymphoma, acute lymphoblastic leukemia, or non-small cell lung cancer that has metastasized. The escalating doses are as follows: 3.3x105 cells/kg, 1x106 cells/kg, 3.3x106 cells/kg and 1x107 cells/kg.
Four patients with TNBC have been enrolled, treated, and evaluated for response so far. Patients are between 38 and 67 years old and have received between 3 and 11 prior lines of therapy. All but 1 patient had visceral metastases.
At dose levels 1 and 2, investigators did not observe any dose-limiting toxicities, severe neurotoxicity, or severe cytokine release syndrome in the 4 patients. Two patients reported grade 1 cytokine release syndrome.
One patient achieved stable disease at 15 weeks and another achieved stable disease at 19 weeks. One patient achieved stable disease after the first CAR T cell therapy infusion followed by a partial response after the second infusion; the partial response has lasted for 14 weeks.
"ROR1+ CAR T cells can be safely transferred, expand in vivo in patients with TNBC," the study authors concluded.
Disclosures: This study was supported by Juno Therapeutics. Please refer to reference for a complete list of author disclosures.
Read more of Cancer Therapy Advisor's coverage of the SABCS 2018 meeting by visiting the conference page.
Reference
Specht JM, Lee SM, Turtle C, et al. A phase I study of adoptive immunotherapy for ROR1+ advanced triple negative breast cancer (TNBC) with defined subsets of autologous T cells expressing a ROR1-specific chimeric antigen receptor (ROR1-CAR). Poster presentation at: 2018 San Antonio Breast Cancer Symposium; December 4-8, 2018; San Antonio, TX. Poster P2-09-13.