December 07, 2018
Extension of Adjuvant Anastrozole Regimen to 10 Years Yields Higher DFS, but Not OS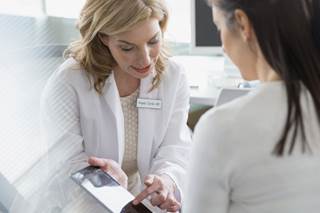 Extension of adjuvant anastrozole to 10 years of treatment showed higher rates of DFS and distant DFS, but did not improve OS.
The extension of the treatment period of adjuvant treatment with anastrozole to 10 years showed significantly higher rates of disease-free survival (DFS) and distant disease-free survival (DDFS) among certain patients with breast cancer; however, no gain in overall survival (OS) was seen in the randomized, multicenter, open-label phase 3 N-SAS BC 05 trial. Trial results were presented at the 2018 San Antonio Breast Cancer Symposium (SABCS) in San Antonio, Texas.1
A total of 1697 women were enrolled in the trial who were postmenopausal with hormone-receptor-positive breast cancer and disease-free after 5 years of adjuvant therapy with either anastrozole alone or tamoxifen and then anastrozole. Participants were randomized to either the stop group, in which extended use of anastrozole was stopped, or the continual group, in which anastrozole was given for an additional 5 years. The trial primary end point was disease-free survival.
The continual group had a higher 5-year DFS rate than the stop group (91.9% vs 84.4%; hazard ratio [HR] = 0.548; P = .0004). The continual-treatment group also had a higher 5-year DDFS than the stop group (97.2% vs 94.3%; HR = 0.514; P = .0077). The 5-year OS, however, was similar between groups (99.5% in continual group and 99.6% in stop group; HR = 1.389; P = .665).
Patients in the continual group had bone-related adverse events more frequently than those in the stop group. Bone-related adverse events included bone pain, stiff joints, bone fractures, and new-onset osteoporosis.
The trial demonstrated that it is "safe and beneficial" for postmenopausal patients with hormone-receptor-positive breast cancer to take anastrozole as adjuvant therapy for an additional 5 years after initial treatment, the study authors wrote in conclusion.
Read more of Cancer Therapy Advisor's coverage of the SABCS 2018 meeting by visiting the conference page.
Reference
Ohtani S, Iijima K, Higaki K, et al. A prospective randomized multicenter open-label phase 3 trial of extending aromatase-inhibitor adjuvant therapy to 10 years - Results from 1697 postmenopausal women in the N-SAS BC 05 trial: Arimidex extended adjuvant randomized study (AERAS). Oral presentation at: 2018 San Antonio Breast Cancer Symposium; December 4-8, 2018; San Antonio, TX. Abstract GS3-04.