January 02, 2019
Sorafenib for Advanced, Refractory Desmoid Tumors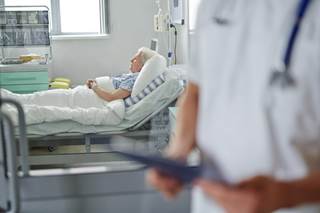 Could sorafenib be the new standard of care for desmoid tumors?
Despite toxicities, dose reductions and treatment discontinuations, sorafenib was associated with more than a doubling of the 2-year progression free survival (PFS2) rate among patients with aggressive fibromatosis (desmoid) tumors compared to placebo, offering a possible and much-needed standard of care for this connective-tissue malignancy, according to authors of a double-blind, randomized phase 3 clinical trial (ClinicalTrials.org Identifier: NCT02066181) reported in the New England Journal of Medicine.1
"Among patients with progressive, refractory, or symptomatic desmoid tumors, sorafenib significantly prolonged progression-free survival and induced durable responses," reported lead study author Mrinal Gounder, MD, of the Memorial Sloan Kettering Cancer Center, New York, New York, and coauthors.1
At a median follow-up of 27.2 months, median PFS had not yet been reached, and the investigator-assessed PFS2 rate (using T2-weighted MRI images) was 81% (95% CI: 69%-96%) among 49 evaluable patients randomly assigned to receive sorafenib (400 mg), compared to 36% (95% CI: 22%-57%) among those receiving placebo (35 individuals; hazard ratio [HR] for disease progression or patient death: 0.13; 95% CI: 0.05-0.31; P < .001).1
Sorafenib responses were relatively late, with a median time to objective response of 9.6 months.
Patients in the placebo group were allowed to cross over to sorafenib therapy at disease progression. Prior to crossover, objective response rate (ORR) was 33% (95% CI: 20%-48%) for sorafenib compared with 20% (95% CI: 8%-38%) for placebo.
Grade 1/2 rash affected 73% of patients on sorafenib, but dose reductions did not appear to diminish the PFS2 benefits of treatment, the authors noted. Other low-grade adverse events included grade 1/2 fatigue (67%), hypertension (55%), and diarrhea (51%), the authors reported.
Approximately 20% of patients on sorafenib discontinued treatment, 10 due to adverse events, compared to none on placebo. Forty-seven percent of patients receiving sorafenib experienced grade 3/4 toxicities; 14% experienced grade 3/4 rash or skin disorder, 12% experienced grade 3/4 papulopustular rash and 8% experienced grade 3/4 hypertension. One patient in the sorafenib group experienced grade 4 thrombocytopenia and 1 patient experienced grade 4 anemia.
Reference
Gounder MM, Mahoney MR, Van Tine BA, et al. Sorafenib for advanced and refractory desmoid tumors. New England Journal of Medicine. 2018;379(25):2417-2428.