June 27, 2014
Synthetic hCG Metabolite May Fight Kaposi Sarcoma
the Cancer Therapy Advisor take:
Studies in 1995 reported that the pregnancy hormone human chorionic gonadotropin (hCG) could shrink Kaposi sarcomas, but the data was later retracted. Tony Antakly, PhD, and his team at the University of Montreal found that purified hCG had no cancer-fighting effects against Kaposi sarcoma cells. After discovering this result, they studied the purification process, which they realized may have stripped the hormone's ability to fight cancer.
The researchers split the molecules and performed biological assays and chemical characterization in order to refine their search. According to their study, presented at the joint meeting of International Society of Endocrinology and the Endocrine Society: ICE/ENDO 2014, an hCG-like inhibitory product (HIP) metabolite is the active ingredient that fights cancer.
The metabolite essentially "piggybacks" on the hCG molecule but disappears during the purification process in the laboratory. Antakly said his team is in the process of developing a synthetic version of HIP metabolite that patients with Kaposi sarcomas can use in treatment.
Although the study's purified HIP is safe and effective, it is too early in the study to know if the synthetic metabolite will produce the same results. Until recently, scientists have not been able to effectively study Kaposi sarcoma-associated herpesvirus (KSHV) since KSHV-infected cells die before becoming cancer cells.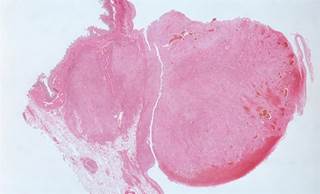 Synthetic hCG Metabolite May Fight Kaposi Sarcoma
For nearly 2 decades, scientists have argued over whether a pregnancy hormone called human chorionic gonadotropin (hCG)—or elements related to it—is able to fight HIV and cancer.
"Clinical grade" hCG—where it is either crude or just partially purified—is used in male hormone treatment and in medications for female infertility. In 1995, studies published in Nature and The Lancet reported that clinical grade hCG extracted from pregnant women's urine was effective at shrinking Kaposi's sarcomas. However, this claim was later retracted by the authors.
Related Resources
Sign Up for Free e-newsletters
Regimen and Drug Listings
GET FULL LISTINGS OF TREATMENT Regimens and Drug INFORMATION