October 12, 2016
Quality of Life: An Increasingly Important Feature of Myeloma Treatment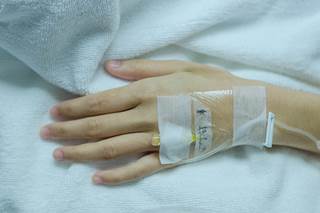 Research and treatment of myeloma are beginning to focus on quality of life in addition to survival.
A recent study found that adding carfilzomib to a combined regime of lenalidomide and dexamethasone brought longer progression-free survival over lenalidomide and dexamethasone alone and, notably, resulted in significant improvement in patients' health-related quality of life.1
Typically, the study's authors note, patients with multiple myeloma "report significant impairment in health-related quality of life (HR-QoL), including reduced physical function, fatigue, and pain." Improvements in the treatment of multiple myeloma (MM) have increased overall survival and longevity, making health-related quality of life "an increasingly important end point in clinical trials and factor in treatment decisions."
Patients with relapsed multiple myeloma, "experience the disease as an acute and chronic condition," the authors write. "With longer survival times, patients live longer with what remains an incurable disease."
That puts increased emphasis on the significance of quality of life.
Led by an international group of researchers in the United States, France, Italy, Austria, Greece, Hungary, Spain, the Czech Republic, and the United Kingdom, the analysis involves 792 patients in North America, Europe, and the Middle East. Median patient age was 64 years.
Treatment with carfilzomib, lenalidomide, and dexamethasone (KRd) was associated with a median progression-free survival of 26.3 months, in contrast with 17.6 months for patients treated with lenalidomide and dexamethasone alone (Rd).
Also, "despite a longer median treatment duration with KRd versus Rd (88 versus 57 weeks, respectively), fewer patients treated with KRd than Rd discontinued treatment as a result of adverse events (15.3% versus 17.7%, respectively)."
For the quality of life aspect of the study, the researchers evaluated multiple "functional domains" (physical, emotional, cognitive, social, and role functioning), as well as "symptom domains" such as fatigue, nausea and vomiting, pain, dyspnea, insomnia, and appetite loss, among others.
It was noted that over 18 cycles of treatment, greater proportions of KRd patients met Global Health Status/Quality of Life definitions of 5 points of improvement or greater at multiple cycles.
The results serve as an example of the steady advances in treatment. A study of treatment with lenalidomide and low-dose dexamethasone alone published just last year found that the 2 drugs in combination offered significant quality-of-life improvements over melphalan, prednisone, and thalidomide among patients with multiple myeloma.
RELATED: Daratumumab Plus Bortezomib and Dex Improves PFS, ORR in Myeloma
"Multiple myeloma is an incurable disease, and it causes a high symptom burden associated with the significant reduction in quality of life," said Michel Delforge, MD, PhD, of University Hospital Leuven in Belgium, as he presented the results of the study at the American Society of Clinical Oncology meeting in Chicago. "We believe that this improvement in health-related quality of life with Rd, and specifically the reduction in treatment-related side effects, may facilitate patient adherence. Longer treatment duration and better adherence may improve outcomes for the patient."2