December 22, 2014
Determining Dose-Limiting Toxicity in Oesophagogastric Cancer
the Cancer Therapy Advisor take:
Neoadjuvant chemotherapy is the standard treatment for patients with oesophagogastric cancer that has the potential for cure before surgery.
Because many anticancer drugs have a narrow therapeutic index, researchers aimed a study to better understand the effect of body composition (which was assessed via CT scan) on dose-limiting toxicity in an effort to determine dose-limiting toxicity for patients with oesophagogastric cancer receiving chemotherapy treatment.
Researchers also studied the impact of sarcopenia and dose-limiting toxicity on overall survival in this group of patients. The study included 89 patients that had oesophagogastric cancer that was histologically confirmed and no evidence of distant metastasis during preoperative staging. CT scans were performed at diagnosis for all patients.
The researchers defined dose-limiting toxicity as toxicity that caused the postponement of treatment, a dose reduction, or definitive interruption of treatment. Of the 89 patients studied, 37 experienced dose-limiting toxicity. Sarcopenia was found to be associated with dose-limiting toxicity after multivariate analysis was performed (odds ratio, 2.95; 95% CI: 1.23,7.09; P=0.015).
Sarcopenic patients had a median overall survival of 569 days compared with 1,013 day median overall survival for non-sarcopenic patients. The research did not identify a significant difference in overall survival when comparing patients who experienced a dose-limiting toxicity to those who did not (P=0.665).
The researchers concluded that sarcopenia is a predictor of dose-limiting toxicity in patients with oesophagogastric cancer who are receiving neo-adjuvant chemotherapy.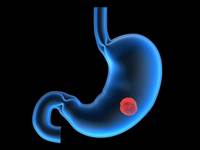 Sarcopenia is a predictor of dose-limiting toxicity in oesophagogastric cancer with neo-adjuvant chemo.
The aim of this study was to determine if features of body composition, assessed using computed tomography (CT) scans, may be predictive of dose–limiting toxicity (DLT) in patients undergoing neo–adjuvant chemotherapy for oesophago–
gastric cancer
. The influence of sarcopenia and DLT on overall survival was also evaluated.
Related Resources
Sign Up for Free e-newsletters
Regimen and Drug Listings
GET FULL LISTINGS OF TREATMENT Regimens and Drug INFORMATION