July 15, 2014
Research Sheds Light on Cachexia, Further Studies Needed to Implement Treatment Strategies
the Cancer Therapy Advisor take:
Cachexia is a debilitating condition that affects approximately 50% of patients with cancer, raising their risk of death by causing a profound wasting of fat and muscle.
According to a mice study published in the advanced online edition of Nature, researchers were able to improve or prevent symptoms of cachexia in mice bearing lung tumors when they administered an antibody that blocked the effects of parathyroid hormone-related protein (PTHrP), a protein secreted by tumor cells. With this knowledge, researchers conducted two experiments with mice that developed lung tumors and cachexia.
In the first experiment a polyclonal antibody that neutralizes PTHrP was administered and mice who received the antibody experienced an almost complete prevention of wasting while untreated mice became mildly cachexic. In a second experiment the antibody treatment improved muscle function and prevented the loss of muscle mass while untreated mice developed severe muscle wasting.
In all, the findings of these experiments suggest that PTHrP does not directly cause muscle wasting but blocking PTHrP's activity prevents it. With this in mind, researchers analyzed blood samples from 47 patients with colon cancer who were cachexic and found that PTHrP levels were increased in 17 of those patients.
Further research is needed to determine if the PTHrP mechanism is related to only a subset of patients or if it is more likely to be elevated in certain cancers.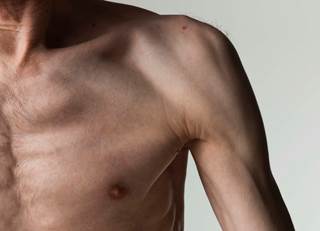 Research Sheds Light on Cachexia, Further Studies Needed to Implement Treatment Strategies
Cachexia is a wasting disorder of adipose and skeletal muscle tissues that leads to profound weight loss and frailty. About half of all cancer patients suffer from
cachexia
, which impairs quality of life, limits cancer therapy and decreases survival.
Related Resources
Sign Up for Free e-newsletters
Regimen and Drug Listings
GET FULL LISTINGS OF TREATMENT Regimens and Drug INFORMATION