July 24, 2014
Eyelid Melanoma May Require More Than One Excision
the Cancer Therapy Advisor take:
According to a study published online this month in the British Journal of Ophthalmology, researchers carried out a retrospective chart review to analyze the number of excisions necessary to have clear margins for patients with eyelid melanoma. Bita Esmaeli and researchers from the University of Texas MD Anderson Cancer Center conducted a study on 64 patients—25 men and 39 women—with eyelid melanoma from January 2006 to May 2013 at a tertiary care cancer center. The results showed that 38 patients (62%) required one excision; 21 patients (34%) required two excisions; and two patients (3%) required three excisions. The size of the surgical margin or the American Joint Committee on Cancer TNM classification were not significantly related to the need for a repeat excision. However, a T category greater than T2b and a shorter time to disease progression were found to be significantly related to nodal disease at presentation. When patients had at least 1 year with a T category greater than T2b, they had a greater risk of nodal or distant metastasis. Overall, over one-third of the patients with eyelid melanoma needed more than one excision to have clear margins, and these results support delayed reconstruction for eyelid melanoma.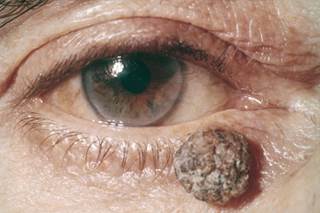 Eyelid Melanoma May Require More Than One Excision
Researchers sought to determine the number of excisions needed to achieve clear margins and the prognostic value of the 7th edition of American Joint Committee on Cancer (AJCC) classification for eyelid melanoma.
Related Resources
Sign Up for Free e-newsletters
Regimen and Drug Listings
GET FULL LISTINGS OF TREATMENT Regimens and Drug INFORMATION