July 17, 2014
Genetic Defect Sheds Light on Melanoma Development
the Cancer Therapy Advisor take:
When exposed to the sun, fair-skinned people are more likely to burn than tan and have a greater likelihood of developing melanoma compared with darker-skinned people. This leads to the idea that melanin, which determines skin pigment and acts as a "natural sunscreen," solely determines the risk of melanoma. According to a study published in the journal Molecular Cell, melanoma development involves more factors.
John D'Orazio, MD, PhD, and colleagues at University of Kentucky found that melanocortin 1 receptor (MC1R), which is on the skin's melanocytes and starts working after ultraviolet exposure by increasing UV-blocking melanin, is more likely to have an inherited defect in fairer-skinned people, which leads to their inability to produce enough melanin for complete ultraviolet (UV)-blockage. When UV light routinely reaches the sensitive layers of the epidermis, the likelihood of developing cancer increases.
The study indicated that MC1R not only affects melanin production, but also how well melanocytes can repair their UV-damaged DNA. These MC1R signaling defects hinder the body from getting rid of existing DNA damage in the skin.
D'Orazio said the results of this study have the potential to save lives and can serve as an indicator to patients who have a higher risk of melanoma to avoid purposeful UV exposure.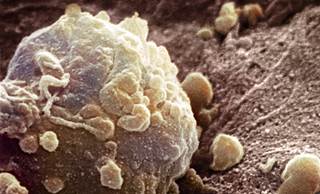 Genetic Defect Sheds Light on Melanoma Development
A new study by University of Kentucky researchers shows how a genetic defect in a specific hormonal pathway may make people more susceptible to developing melanoma, the deadliest type of
skin cancer
.
Related Resources
Sign Up for Free e-newsletters
Regimen and Drug Listings
GET FULL LISTINGS OF TREATMENT Regimens and Drug INFORMATION