January 10, 2018
Encorafenib/Binimetinib Combination Shows Promise for Advanced Melanoma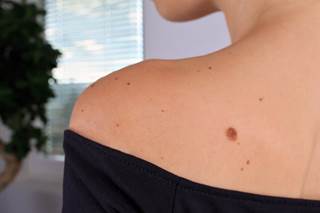 The combination may be an attractive option for some, but further research is needed to target the therapy effectively to particular patients.
The US Food and Drug Administration (FDA) recently accepted a New Drug Application to support the combination of the MEK inhibitor, binimetinib, and the BRAF inhibitor, encorafenib, for treating patients with BRAF-mutated unresectable or metastatic melanoma.1
Encorafenib is a novel oral small molecular kinase inhibitor designed to target the mutant BRAF kinase. The BRAF kinase is a member of the RAF/MEK/ERK pathway, which has a prominent role in several key functions of melanoma, including growth, proliferation, and survival.
Results from a phase 3 trial evaluating the drug combination showed a more than doubled progression-free survival (PFS) among patients with advanced melanoma compared with vemurafenib monotherapy.2
"The use of combination approaches to treat patients with melanoma, as well as other cancers, is no longer a just a wish for the future but is today a clinical reality with a rapidly growing evidence-base," Paolo A. Ascierto, MD, of the Istituto Nazionale per lo Studio e la Cura dei Tumori in Naples, Italy, and colleagues, wrote in the Journal of Translational Medicine.3
The cobimetinib plus vemurafenib combination was, for example, approved by the FDA to treat advanced melanoma with BRAFV600E or V600K mutations; dabrafenib plus trametinib was recently granted Priority Review by the FDA for patients with melanoma.4,5