November 24, 2014
Melanoma Immunotherapy Slows Tumor Growth and Improves Survival in Mice
the Cancer Therapy Advisor take:
A new DNA-based cancer immunotherapy that targets melanoma has induced large immune response in animal models and was effective at directing T-cells to attack tumor cells, a study by Inovio Pharmaceuticals, Inc. that was published in the journal Cancer Gene Therapy has found.
For the study, researchers at the company designed a synthetic DNA immunotherapy that encodes the tyrosinase gene. This gene is overexpressed in about 80% of melanoma cells. They found that when tested in mice, the immunotherapy was able to infiltrate the tumor site, prevented more tumors, slowed tumor growth, and altered the tumor by blocking cells that inhibit T-cell activity.
They also found that when compared to mice in a control group, mice who received the DNA immunotherapy had an increased survival.
Inovio Pharmaceuticals, Inc. is also developing and studying other immunotherapies for various cancer types, including breast, cervical, head and neck, lung, and pancreatic.
According to the American Cancer Society (ACS), about 76,100 patients will be diagnosed with melanoma in 2014 and about 9,710 are expected to die as a result of the disease. ACS also estimates that the 5-year survival rate of those with stage 3 or 4 melanoma is 15%.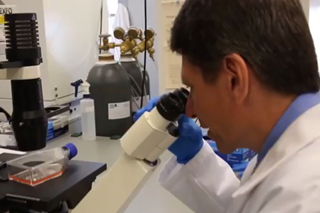 A new DNA-based cancer immunotherapy that targets melanoma has induced large immune response.
Inovio Pharmaceuticals, Inc. has announced its newest DNA-based cancer immunotherapy targeting melanoma induced a robust and broad immune response in animals and directed cancer-killing T cells against tumors. These results further demonstrate the power and utility of Inovio's synthetic DNA-based immunotherapy platform focused on cancers and challenging infectious diseases.
In this study, Inovio developed a synthetic DNA immunotherapy encoding the tyrosinase gene which is highly expressed in nearly 80% of melanoma tumor cells. Researchers found in mice that the tyrosinase-targeting DNA immunotherapy was very effective in infiltrating the tumor site, where it prevented tumors, controlled tumor growth, and changed the tumor micro-environment by "turning off" cells that suppress T-cell activity. Inovio's therapy also increased survival in melanoma-challenged mice versus a control group.
Related Resources
Sign Up for Free e-newsletters
Regimen and Drug Listings
GET FULL LISTINGS OF TREATMENT Regimens and Drug INFORMATION