May 17, 2018
Marital Status Predicts Melanoma Stage at Diagnosis—But Why?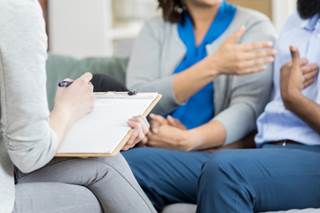 Married people are more likely than unmarried, divorced, or widowed patients to be diagnosed with skin cancer at early, more readily-treatable stages of disease.
Marital status is associated with earlier skin-cancer diagnosis, with married patients diagnosed at earlier tumor stages, when melanoma is more readily cured, according to a retrospective analysis of more than 52,000 patients in the National Cancer Institute's Surveillance, Epidemiology and End Results (SEER) database.1
Widowed patients were three times more likely than married people to be diagnosed with late-stage localized melanoma. The results were published in the journal JAMA Dermatology.1
The study showed that married patients were more likely to adhere to clinical guidelines and undergo sentinel lymph node biopsy (SNLB) when indicated, said lead study author Cimarron Sharon, MD, of the Hospital of the University of Pennsylvania in Philadelphia.
"In our practice, we often find married patients receiving encouragement from their spouse regarding the procedure," Dr Sharon told Cancer Therapy Advisor. "As such, physicians may alter their practice by encouraging unmarried patients to bring a family member or friend to their visit when discussing SLNB in order to aid in their decision-making."
The researchers found no gender effect; the association between marital status and earlier-stage melanoma diagnosis was seen in men and women alike. That was "somewhat surprising," Dr Sharon said. "We guess that may mean that men and women in marriage both really look out for on another, which is comforting."
The research team examined SEER registry data for 52,063 patients diagnosed with localized melanoma between 2010 and 2014, analyzing associations between marital status, tumor (T) stage at diagnosis, and whether or not patients underwent SLNB for lesions with thickness greater than 1 mm.
Forty-six percent of married patients were diagnosed with early, T1a-stage melanoma compared to 43% of never-married patients and 39% of divorced patients.1 Only 32% of widowed patients were diagnosed with early-stage disease (P < 0.001).1 Nine percent of widowed patients were diagnosed with later-stage (T4b)-stage disease compared to 3% of married patients.1
The findings have "important implications for counseling patients and recommending frequency of follow-up surveillance," Dr Sharon said. "For instance, clinicians may recommend unmarried patients initiate regular skin exams at an earlier age and continue them more frequently in order to identify earlier stage lesions. Our study may also support previous literature on partner-assisted structured skin exam (SSE), which found that patients and partners who underwent SSE training were able to identify more new melanomas than those patients without SSE instruction."